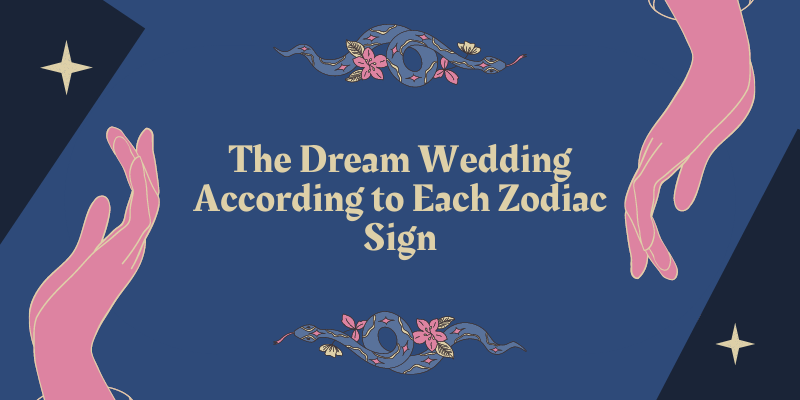 Are you someone who has been planning their dream wedding for ages now? We understand what must be going on with you when you finally meet the one with whom you will settle down! The anxiety, the butterflies in the stomach, the chaos of making huge lists for all the preparations which need to be done, selecting the perfect wedding dress, deciding the venue, deciding the dress code, and whatnot.

The first major step for starting a life together is the wedding. The commitment of being together through the thick and thin situations and loving each other unconditionally is a symbolization of marriage. Here's small guidance from our end so that you can have your fantasy dream wedding that you have been planning for years.
Aries: The Extraordinary Charmer
Aries are well known for their fearless and strong personality. This should as well become the guiding theme when it comes to your wedding as well. You always want to stand out from the crowd and desire to bring change in society.
A beautiful rare old firehouse? Or maybe an extravagant outdoor fairground with fun giant wheels and roller coasters to add on that extra fun for the guests to enjoy themselves can be some of the idle wedding destinations for you. Traditional wedding places aren't your type. And let's be honest you need some kind of distraction from the old monotonous life.
Taurus: Traditional Extravaganza
The unapologetic and unpredictable Taurus needs something extravagant and ostentatious to match their taste. You can turn basics into interesting by incorporating creativity. A classic traditional church with you walking down the aisle in an A-Line dress with the entire crowd gaze at you with awe would be the thing for you!
You are not typically someone who would like to throw a wedding with a huge garden and porch in the front. You are a social butterfly and your witty intellect amazes the crowd. Picking a particular theme may be a little difficult for you owing to your indecisiveness. But when it comes to wedding dress a perfect blend of the Latin Dancing period and Art Deco, as well as the Film Noir, can be the one for you. Your gown can have layers of cream textured lace.
Cancer: The Warm and Chic
Cancers make the bride with the perfect blush. The shy cancers who are way too caring towards their parents and friends will always desire something simple, warm, cozy yet chic at the same time. You got to wipe those teary eyes while walking down the aisle with your friends. This sentimental Zodiac would love to have a dream wedding in a countryside mansion or at the countryside gorgeous grounds with the astonishing beauty of nature.
Leo: The Majestic Dalliance
Leo, you want all the spotlight on you. You can't ever settle for something basic. When it comes to your wedding destination, it has to be something majestic and royal to suit your personality. Marrying in a royal castle with all the eyes on you with a vintage theatre is the one for you.
You are not someone who likes to indulge in an extravagant lifestyle. You might have even sworn to take wows with your family only. You are a bride who can show off her artistic eyes by adorning into a sleek strapless dress or a column dress. A nature-based destination may be the botanical garden is your go-to vibe.
Libra: The Ostentatious Affair
Libras you can't deny that your deepest desire is to marry in a lavish extravagant style. With a grand entrance and opulent rooftop, you want something that is feminine and extremely sexy.
Scorpio:

Twilight Kaffeeklatsch
Scorpios you desire nothing less than a dreamy wedding under the twilight of a full moon. The cool breeze bringing chills down the spinal cord is the vibe for you. A private beach wedding with your family members and friends is the kind of wedding to wish to have.
Sagittarius: The Unconventional Felicity
You are not someone who likes to abide by the rule book of society. The desire to always being different makes you stand out from the rest. A fancy luxurious trip to Las Vegas, an Unconventional shotgun wedding dress, and getting hitched in your wagon is the way you would desire to celebrate your special day.
Capricorn: The Family Wedding
A formal or even a semi-formal dress with a black tie and princess-style wedding dress in your ancestral family garden or courtyard is the kind of wedding you desire. Being realistic and a family-oriented individual you understand the true value of sentiments.
Aquarius: The Homely Party
You are not someone who likes to get all dressed up into some fancy or flashy attire gaining the spotlight. Extravagance isn't your cup of tea. Rather than having a huge wedding party with a massive crowd, you would like to have a friendly get-together with your closest friends. A friendly party at an amusement park or a planetarium is more of your vibe.
Pisces: The Wanderlust Wedding
Pisces you are a hopeless romantic. You are going to need a bunch of tissues owing to the legendary love story you are going to have. Your inspirations are drawn from Retro Hollywood Movies. Your wedding destination needs to be the talk of the town giving the sensation of a paradise.