The King of Swords Tarot Card Meaning - Astrology Valley
by Astrology Valley Mar 21 2023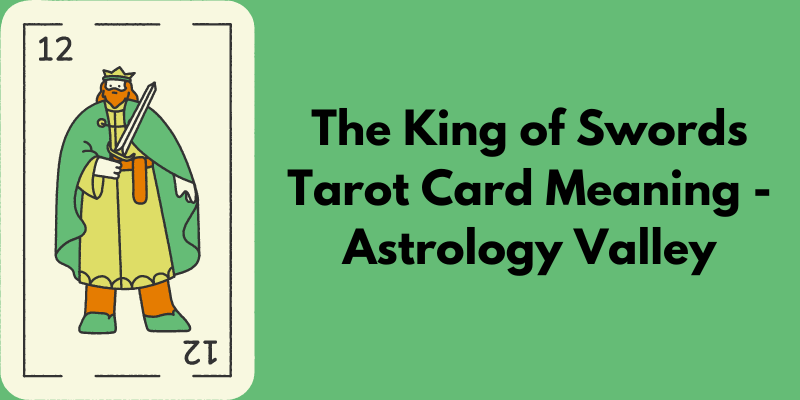 The General Meaning and Interpretation of the Upright King of Swords:
The King of Swords symbolizes structure, routines, self-discipline, and authoritative power. This Minor Arcana card represents methodical thinking, the use of the mind over matter, and the heart over the head. It represents logic, reason, integrity, and ethics, and may also signify legal matters, law enforcement, and the military. The King of Swords is depicted as a mature, independent, smart, honest, and strong man who thinks deeply and logically. He may belong to the zodiac signs Aquarius, Gemini, or Libra. He doesn't usually display his emotions publicly and prefers to solve problems using intellect. He is loyal to his family, an excellent conversationalist, and thrives in structured environments. However, he can also be stern, clinical, negative, and bully-like at times. He is generally analytical, fair-minded, reliable, and takes responsibility for his actions.
Love and Relationships (Upright):
If you're in a romantic relationship, the King of Swords may indicate that your partner or you possess these qualities, and you have a shared intellectual and emotional connection. This card may also signify that your partner or relationship motivates you to achieve high standards. If you're planning to have a family, this card could indicate fatherhood. If you're single, this card may signify that you'll find someone who possesses these qualities, or you're looking for a partner with intellectual connections. It may also indicate a happy bachelor man who is unlikely to settle for anyone who doesn't share his passion or meet his high standards.
Money & Career (Upright):
In a career Tarot Reading, the King of Swords may represent a mature older man who challenges you and holds you to high standards. To earn his respect, you should act with integrity, honesty, and intelligence. He will provide sound guidance, and you'll learn a lot from him. This card advises you to be calm in business and ensure you have all the facts before making any decisions. It may also signify that you'll be more successful if you introduce more structure and routine in your work life. In a financial Tarot spread, the King of Swords suggests having a realistic, rational, and logical approach to your finances. It advises you to think for yourself and learn before you invest.
Health (Upright):
In a Tarot spread that discusses health and fitness, the King of Swords suggests putting more structure into your life. This may mean having set sleeping and eating patterns or structured exercise routines. The King of Swords may also indicate that surgeons or consultants are involved in your care if you've suffered from an injury or illness.
Spirituality (Upright):
The King of Swords suggests that spirituality is not limited. You can study as many spiritual practices and attend as many workshops as you like, but at some point, you need to put all of your knowledge into practice. Follow your heart instead of your head. It's time to stop thinking about it and start doing it.
Interpretation and general meaning (Reversed):
In a general context, the reversed King of Swords can indicate a lack of structure, routines, self-discipline, or authority. It is a Minor Arcana card that can signify not using one's head, losing one's cool, being inhumane, power-hungry, or tyrannical. The reversed card suggests a lack of logic, reason, integrity, or morals, and may indicate that legal matters are not in your favor. The King of Swords reversed can represent a mature male who is cold, power-hungry, controlling, sarcastic, and ruthless, and may be an Air Sign like Aquarius, Gemini, or Libra. The reversed card can signify someone who is smart and talkative but uses these attributes to hurt or manipulate others, and may be illogical, weak, or judgmental.
Reversed: Love and Relationships:
If the King of Swords is reversed in a love Tarot reading, it can signify that you are in an intimate relationship with someone who exhibits these qualities or that you are exhibiting some of them in your personal life. You should be cautious if this card represents your partner, as it can indicate an abusive, aggressive partner. This card can also signify that your heart is overruling your head, and you may lose your cool over trivial things. It can also signify infertility and an absent father, so this card is not a good sign if you're planning to have children. If you're single, the King of Swords reversed could indicate that you'll meet someone who embodies these qualities or that you are exhibiting some of them yourself in your relationship life. It is best to avoid someone with these characteristics as they may not treat you well and could be dangerous or violent. This can be a sign that he is single or a bachelor, or it could signify a relationship with a man who is single or a bachelor.
Money & Career (Reversed):
The King of Swords reversed in a career Tarot card can signify a mature, older man in your workplace who might be intimidating or bullying you. He could be judgmental, aggressive, power-hungry, and cold. The Minor Arcana card reversed may indicate that you are more likely to lose your cool or make irrational decisions. This card can be reversed in business to indicate that you may lack structure, routine, or self-discipline. It could also indicate that a legal matter is not being resolved in your favor. The King of Swords reversed in a financial Tarot spread can signify a lack of control or self-discipline with your financial management, which could indicate problems.
Reverse Health:
The King of Swords reversed in a health Tarot spread can signify that you feel powerless. You may feel that the medical professionals who are treating you for medical issues are taking all the calls and not listening to what you have to say. You are responsible for your health and body, so don't let anyone else dictate your treatment. Talk to your healthcare provider, but be sure to address any concerns.
Spirituality (Reversed):
The King of Swords reversed in a spiritual context means that you must keep your head active in your spiritual growth. To filter the valuable information from the overwhelming amount of information available, you need to use your brain. Do not blindly believe everything you hear. Be discerning and use your brain to find the best information for you.