Virgo season will make us all feel focused and determined
by astrology valley Aug 30 2021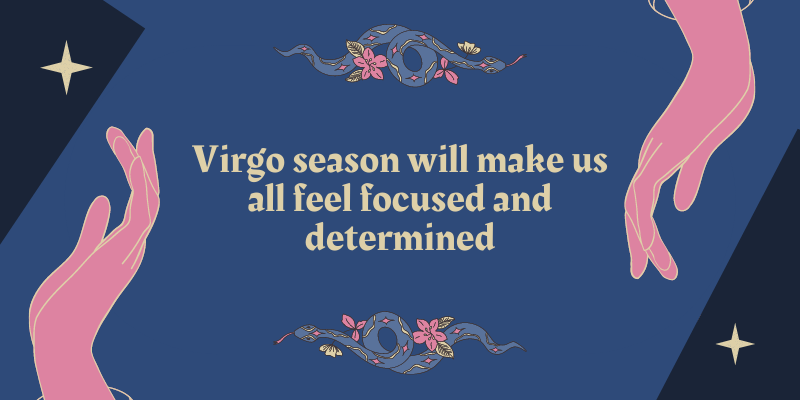 The sun officially left its home sign of Leo and moved into the earth sign Virgo's domain on the 22nd of August, kick-starting Virgo season 2021. After a month of hardcore partying in Leo season, this solar shift is making us clean up after our acts. 

Virgo is the mutable earth sign of the zodiac and the energy it releases makes us redefine our routines and be organized. This sensible energy is perfect for getting focused on work and finding ways to stick to our schedules more smoothly. As the sign is related to health and vitality, Virgo season is the perfect time to prioritize our health goals and pick up our self-care sessions. 
During Virgo season 2021's first week, the ruling planet of Virgo, that is, Mercury will be traveling through its territory. This bundle of planetary power will intensify the Virgo vibe and make us start hustling. The Virgo aura will be at its peak during the ebullient new moon of September 2021 on the 6th of September. That will be one of the finest moments of the Virgo season to plant seeds for a bright future. 
Aries (21st March-19th April)
It is high time to get organized. Use the pragmatic energy of Virgo season 2021 to refurbish your habits and check if it's working in your favor and supports your well-being. It's time for you to change your timetable and plan a fresh schedule and daily check-in on your targets. Start making aggregate and health-oriented decisions. 
Taurus (20th April-20th May)
The earthy energy of Virgo season is igniting your artistic and flirty side, so Taurians you can expect positive energies and inspiration coming to you throughout the month. Take out time for things that you enjoy. Engage in exciting hobbies, romantic activities, or artistic ventures. 
Gemini (21st may-20th June)
This season traces the last month of summer, so be sure to divert your energy into homemaking. Declutter your closet, clean your space, and take some projects that include organization to start things fresh.
Cancer (21st June-22nd July)
You are on fire this season so divert all of Virgo's energy to your professional life and daily conveying. You will have positive energy to associate with your companions and when it comes to logical matters you will be able to handle them smoothly. 
Leo (23rd July-22nd August)
Your birthday month has finished so it is time to check your finances and maintain your account. Make a budget and then spend your hard-earned money accordingly. Want a raise in work? Now is the best time to ask for that because this season will let you see your worth. 
Virgo (23rd August-22nd September)
It is the Virgo season so it's time to rock! Do a makeover because the sun's radiance of your zodiac sign will highlight your distinctive preferences and how you make yourself presentable. Utilize your time in making a better image of yourself and show the world your creative side.
Libra (23rd September-22nd October)
It is a great time for reconditioning and personal reflection. You are on the path of personal modification but to achieve that you need to pause and listen to your conscience. Give yourself extra time and engage in self-care habits. 
Scorpio (23rd October-21st November)
You will get to know how much power positive thoughts hold in Virgo season. This month use your abilities to help the needy. Communicate with your optimistic friends to refresh your mood or sign up for some volunteer work. The more you give this month, the more you will receive.
Sagittarius (22nd November-21st December)
This month all your energy will be focused on the professional front so make your goals true. By just being hard-working, organized, and paying attention to specifics will help you climb the ladder of success at work and the right people will get impressed.
Capricorn (22nd December-19th January)
Virgo season will unleash your crazy side and ask you to go on some adventures that will change your perspective. It can mean anything like planning an interesting trip, taking up an exciting class, or doing things that are not in your comfort zone, it's the time to do it. 
Aquarius (20th January-18th February)
You are in the middle of some intense personal transformation so things may get a little dense this month. It is time to drop the baggage in your serious relationships and a fresh start. Virgo season's energy can be utilized to create a logic of your emotions.
Pisces (19th February-20th March)
Relationships can get complicated but you will be given the possibility to settle everything this month. If you are committed then make sure you and your partner's needs are taken care of and you both try to help each other when needed. If you are single then think about what you need in a partner and do not settle for anything less.