General Interpretation and Meaning of the Eight of Wands - Upright & Reversed
by astrology valley Sep 08 2021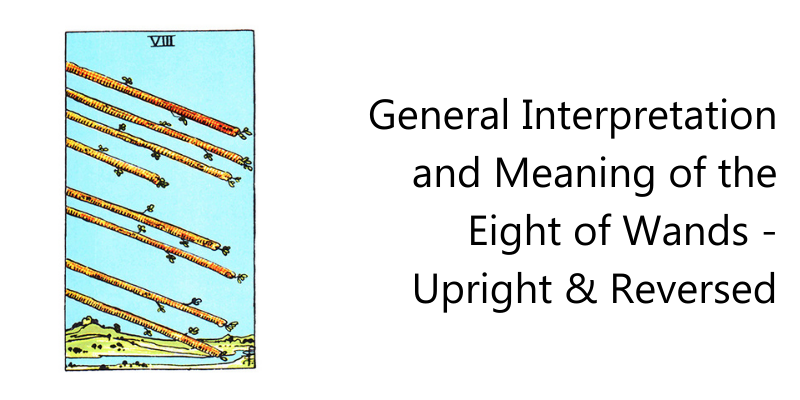 The tarot card Eight of Wands is always shown with eight flying wooden sticks that appear in the air. There is a general interpretation that says that they may be sticks flying at a faster pace. The backdrop is usually clear which indicates that there is no obstacle that can stop these sticks from reaching their designated spot.  At the ground level, there is water that is flowing in a certain motion. These sticks which are in the air are likely to arrive at some spot marking that a beautiful journey is now completed. These wands may also suggest that there are no blockages in your path and you will achieve a goal.  
Eight of Wands is associated with swiftness, change which occurs quickly and without any obstacle. The movement is rapid in speed and it also signifies the free movement of energy.
General interpretation and meaning of the Upright Eight of Wands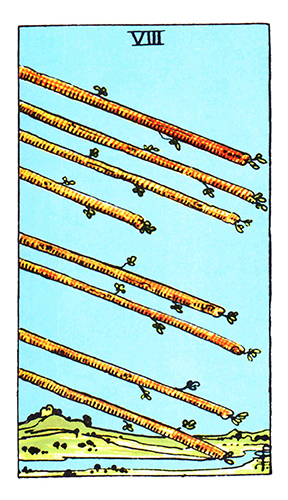 The obstacles which were on your way are now removed and you can move towards the new path with a lot of new energy. The eight of wands helps you to move forward in your journey. It will let you move at a faster speed towards your goal. It will make you occupied for all the right reasons and you will enjoy being occupied. If you are facing difficulty you will quickly find an answer to that difficulty. If you are head of some project, you are going to be rewarded for your constant efforts. 
Love and Relationship (Upright)
If you look at eight of wands when you are in a relationship then it means that you are at a very good phase of your relationship. This card is a signal that you will receive lots of love and intimacy. This joy of a relationship is everlasting. Exciting times are coming for you. However, if you are single then it simply means that you are about to meet your loved one. The kind of romance which will kindle between both of you will be very quick. It signifies that you will soon meet someone when you have least expected it.  
Money and Career interpretation (Upright)
With regards to money and career, your financial growth is going to be very fast. It is a great sign that you will be travelling for your work and attending various sessions which will be work-related. If you are working towards a financial goal and are happy to get work done, then you will be assigned a lot of work. If you are about to start your own startup, then it is going to take off pretty quickly. However, with quick speed comes a great caution so it is advisable to make decisions with great care. The speed will be constant for both your profit and loss so it is important to pay attention to your money. It will be beneficial for you if you don't invest in anything with this financial pace. 
Health Interpretation (Upright)
If you are facing some ailment, you will be getting back on track very rapidly. It also signifies that your recent exercise and workouts are giving you faster results than what you would have expected. It may also show you that you need to quickly heal yourself from an ailment. However, this means that you may have to constantly do your exercises for them to keep giving you amazing physical results which you are expecting from them.  
Spiritual Interpretation (Upright)
If you are not a very positive person, do not worry. When this card is shown to you when it's upright, it means that there will be a lot of positivity around you. If you are interested in your personal healing, this is the right time to start the practice. This is how you will quickly learn the practice and gain its fruits. With a gained speed in these practices, comes a great responsibility of keeping up with these practices. You have to make sure that you keep up with your healing practices.  
General interpretation and meaning of the Reversed Eight of Wands
When this card is shown to you reversed, it simply means that you should take a pause and rethink about your choice. It is always necessary to do some research before planning your further steps and if you don't do your homework you are sure to fail. There should be proper planning before performing any task or else you are going to make a huge mistake. It is a great idea to keep your focus in one direction instead of switching your paths again and again. You will be in a big problem if you are unable to finish any of the given tasks which were previously assigned to you. If you have some unfinished business, then you may have to put a lot of time in order to finish it. If you have some travel plans then all of them will be delayed or won't even happen at all. There will be a lot of energy drain which you will face. You will be facing anxiety because of everything around you as it will be a chaotic situation.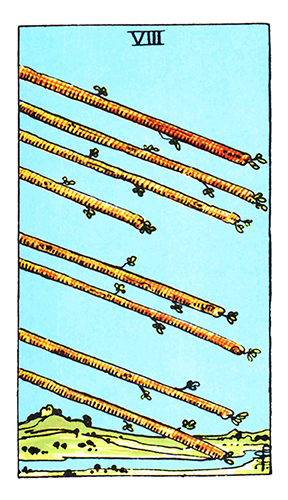 This card is a warning that you are rigid towards the change and you are not going with the flow. This is an indication that you should go in the right direction with proper momentum. This card also signifies that something will occur very late. This can cause stress to you and you have to make sure that you are stable.  
This card signifies that you should take a pause and take a break and that you should not hurry in taking any kind of decision. It is also a sign that you are slowly planning to pursue a goal and you slowly climbing the steps to your success. It also shows that you are waiting for your chance to make a move so that it directly hits the bull's eye.  
Love and Relationship (Reversed)
This card is not a good omen when it comes to relationships as it indicates delay and zero progress in your relationship. This card indicates that there is no romance left in your relationship. The card shows that no matter how much time you must have spent but it does lack connection right now. It shows that the pace of your relationship is hindered by either of you and that is an obstacle for your relationship. If you are single, then you are sure to date them but suddenly your relationship with that person will fall apart and everything will not be a happy ending. If you are looking forward to someone and if things go great then soon after you will question your choice. The lack of movement may break your relationship, the lack of interest will make you feel as if you and your partner are stuck in someplace.  
Money and Career interpretation (Reversed)
All of your financial plans will be dumped in a bin after you see that every action you do is leading to a failure. There will be a lot of places that you may go to but they are of no use as they will lead to loss. The speed at which you thought your career might go has now suddenly come to a halt. If you have your startup then things are very speedy for you to even grab each one of them is a juggling task for you. If you are planning to make a decision, there will be a lot of delays. The kind of money that you wish to earn is only a pipedream because an expectation versus reality is hitting you hard. You need to make sure that this situation should not make you feel like a complete loser, instead try to focus on how you will save your money.   
Health Interpretation (Reversed)
If you are facing some ailments, may god be on your side because you may not recover as quickly as you expected it to be? Instead, you will be stuck in a place with an ailment that is very slowly recovering. It can also represent lethargy in your life. If you follow some exercise routine then it may not show on your body for a long time. Its effects will be very much delayed. It can also signify that you are soon going to be ill and you need to take good care of yourself so you eventually fight the ailment.  
Spiritual Interpretation (Reversed)
If you are a positive person, soon your perception will change as a lot of negativity is going to come on your way. If you are into some healing practices then they may not be showing you proper results. It is important to take note that these are not magical powers that make you powerful in a day or two. Instead, your body has to adjust to these things. You will only see results if you are patient with yourself.