General Interpretation and Meaning of the Five Of Cups - Upright & Reversed
by astrology valley Sep 07 2021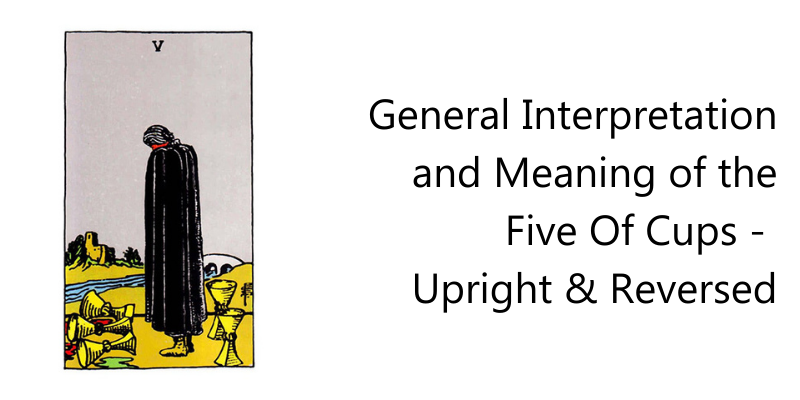 Tarot Cards play a significant role in determining what one can expect from the unknown future. It also suggests the kind of situation the person is presently going through and speaks a lot about the past of the individual. Each Tarot card holds a unique interpretation. Tarot Cards can be interpreted in two manners. The first one is in the form of an upright manner while the other one is in the form of the reversed manner.  
The powerful Five Of Cups describes a man who has adorned himself in a black cloak and is looking down upon the three Cups which have been knocked down on the surface. This iconic representation of the man symbolises personal failures and setbacks. Behind the man there are two cups which are standing upright indicating favourable opportunities and new potentialities coming in his way. But presently he is so focused on mourning over the losses he has faced, the new opportunities go unnoticed.  
The background of the image also highlights a bridge crossing over a large river that is leading to a secured place which looks like a castle located on the opposite bank of the river. The card symbolises in order to overcome the losses you have to build the bridge and reach the destination.  
General Interpretation and Meaning of the Upright Five of Cups 
When Five of Cups upright comes in your general reading it represents sadness, sorrows,betrayals, setbacks, disappointments, failures, resentments, etc. Five of Cups represents several negative emotions that a person is going through. In general interpretation if this card is drawn it means that you are focusing yourself on the negative. This can welcome traumas and unwelcome encounters who have come across. This card can also signify heartbreak, separation, etc.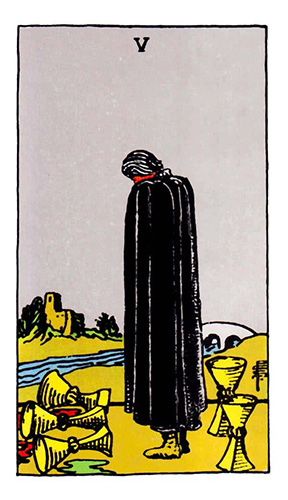 The Five of Cups is a card that indicates the emotional trauma and mental instability caused by those traumatic experiences. It is a card of grief and mourning. You might be feeling deep remorse, sadness, anger, etc. within yourself. The Minor Arcana Card represents abandonment by someone close in your life. On the positive hand, the card also represents new opportunities underneath the entire negativity. It is the time you need to refocus your energy on something productive rather than dwelling on the failures.  
Love & Relationships (Upright) 
When five of Cups upright appears in your love reading it indicates separation or some kind of unfortunate incident that has taken place between you and your partner. It might also symbolize that you are mourning about your previous relationship finding yourself incapable of moving ahead. It might be the feeling of destitution, where you might have realized that you have lost the love of your life. Being too focused on the previous loss you are unable to see the potential partner who is right underneath your nose. Perhaps the guilt of your past relationship is still traumatizing you. The Five of Cups may also indicate bereavement. You might have lost your loved one. You need to stop isolating yourself.  
Money & Career Interpretation (Upright) 
When it comes to career and financial situation the Five of Cups upright symbolizes you might be facing a difficult situation at your work. Either you have failed to prove your efficiency for which you might have been subjected to serious criticism or you might have been fired from the job. There might be a situation where you are facing severe deterioration in business or loss of job. Your business partner might have abandoned you where it might seem slowly everything is going downhills. Although the card represents difficult financial situations where you might be struggling to meet your ends, it is advisable not to let your frustration or despair have an overwhelming impact on you.  
Health (Upright)
In health interpretation, the Five of Cups resembles emotional trauma and baggage which might be draining your energy. You might be feeling overwhelmed by the fast grievances and setbacks you have faced in life which is the prime reason for the sudden deterioration in your health. It represents that you feel stuck in a situation and therefore the anxiety and depression make you believe you are a complete failure. You are isolating yourself from others and panic attacks might result in social anxiety.  
Spirituality (Upright) 
In spiritual connotation, the Five of Cups represents resentments, anger, frustration, distress, etc. In case you have been seriously wronged by someone, it is time to let go of that anger. Anger can only welcome unnecessary stress and resentment. Holding a grudge against someone isn't the solution. When you are forgiving someone the universe will try to open its door for you and help you to guide you to your destination.  
General Interpretation and Meaning of the Reversed Five of Cups 
In Tarot reading the reversed Five of Cups represents that your initiations are right and you are spiritually guided. You have to keep your faith in yourself and strive to achieve the success which you aimed for while starting the journey. The Major Arcana card, also indicates that you are focusing your energy on others' opinions. You are not hearing what is indicated for you in the conversation.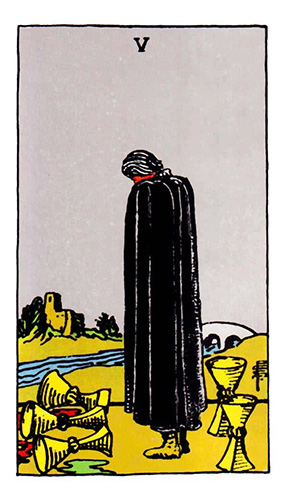 It indicates the feeling of selfishness or guilt which makes you put others above yourself. You are putting your own needs aside which is unfortunate as you need to prioritize yourself above others. It is the time where you need to reconnect with your intuition and put effort for yourself.  
Love & Relationships( Reversed) 
If you are single and the reversed five of Cups comes in your reading it is an indication that you need to let go of the regrets and past resentments which you might have faced in your previous relationship. It is the time for you to move on as new love is looking for you right at the horizon. You need to seize this opportunity and give yourself the liberty to enjoy the blossoms of love. You will have to refocus on your social life and forgive people for the wrong they did in the past. You may consider visiting a counselor as it might help to recover and heal yourself which is the need of the hour.  
Money & Career Interpretation (Reversed) 
The reversed Five of Cups in career and financial context symbolizes regaining what you may have lost. If you were in a situation where you found yourself to be unemployed, you have successfully overcome the situation. You have proved yourself through dedication and perseverance that success can be achieved if one is willing to work for it. You have regained your feet in your career. You have also been able to rebuild your business after facing a major loss or abandonment from your business partner the Minor Arcana card also signifies that you have not only recovered yourself from the losses you might have faced but also in a situation where you have been able to lie a better stable foundation for your business or enterprise. In financial interpretation, the reverse five of cups signifies you have been gradually gaining profits. Your financial situation is improving steadily after a prolonged period of immense difficulty.  
Health ( Reversed) 
The reversed Five of Cups indicates that you are healing. You are feeling positive about the ongoing changes in your life. The contentment of finally regaining your feet and trying to establish something concrete for a better future is helping you to let go of the past pains and failures you might have encountered. If you are finding it difficult to let go of the negativity, there might be some external energy that is guiding you to achieve mental peace and security.  
Spirituality (Reversed) 
The Five of Cups in reverse indicate that you are Overcoming a situation of great loss and suffering. You are ready for a fresh start and you are preparing yourself to walk down this path of a new spiritual journey which is awaiting you ahead. Your past traumas have taught you serious Karmic lessons which have evolved you as a person. Your perspective towards the outside world has changed significantly making you kinder, more empathetic, wiser, and understanding. On the other hand, if you are holding the previous sorrows you won't be able to surrender yourself to the bliss of nature. The universe upholds a new enriching path for you which can only be achieved if you let go of the past painful experiences.