General Interpretation and Meaning of the Four of Wands - Upright & Reversed
by astrology valley Oct 19 2021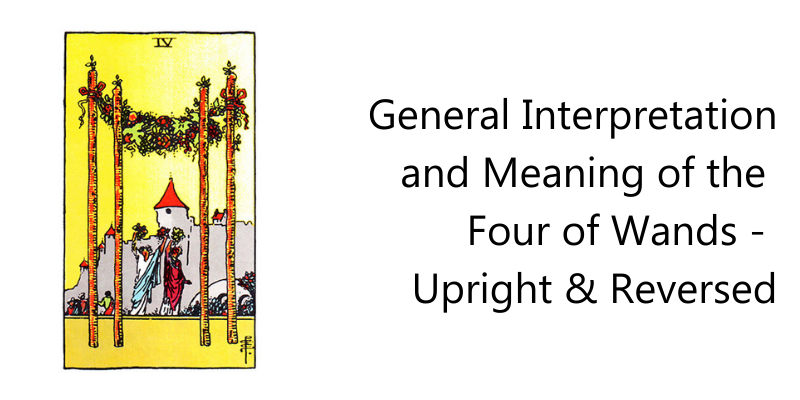 The Four of Wands Tarot card announces the arrival of a happy occasion in the family. It is probably someone from a faraway land returning home that you might feel the need to celebrate or it is a wedding in the family that calls for a celebration. No matter what the event is, you and your family should enjoy every moment of it. You should all come together to share your happiness and should contribute to making the event successful. The Four of Wands Tarot card may also mean you could be achieving a great feat in the processional sphere with the help of your team. This can fill your heart with pride and you are bound to be rewarded for your efforts. 
General interpretation and meaning of the upright Four of Wands
The upright Four of Wands Tarot card has some happy stories to narrate. It prompts that there is an upcoming event that calls for your attention. It could be a wedding celebration or a family reunion. Either way, each member of the family will come together to ensure that everything concludes smoothly. It is within the protective shield of your family that you feel most secure. You will feel confident about yourself amidst the support that your family offers. The card reveals that you are going to be successful in your endeavors and there is a major contribution of your team in this success. It is the team spirit and the collective efforts that bore such fruits.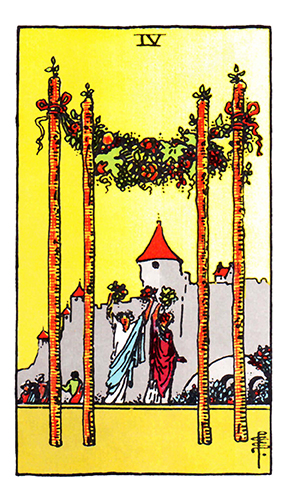 Love & Relationships (Upright)
The Four of Wands Tarot card indicates that your relationships are thriving. Your family life is full of warmth and affection, just like you have always wanted it to be. The family reunion that is about to take place on a special occasion will give you some time to interact with your family members and understand them better. Moreover, if you are involved in a committed relationship and are planning to get hitched, this might be the green signal for you. But if you are single, the card can indicate that you are about to be reunited with your lost love or will probably be satisfied with the life you are currently leading. 
Money & Career (Upright)
The Four of Wands represent fortune and success. It reveals that you are going to achieve all your goals, given to holding on to your efficient team. You have the best team and the contribution of its members is undeniable. You can find yourselves celebrating your achievements. Both your career and your savings are meeting the bright light of the day and you will be surprised to see how far you have come in such a short time. It is the combined effort of your team that has helped you climb the ladder so quickly and for having helped you, they deserve some appreciation and acknowledgment.
Health Interpretation (Upright)
With everything going on at a good pace, the Four of Wards Tarot card also signifies that you are going to feel fit. If you had met with an accident or were suffering from an ailment in the past, the upright Four of wards Tarot card could be an indicator of good health. If you are planning to bring a new life to this planet, the card could be wishing you good luck! You will find yourself renewed with a new sense of the self. It is your success that makes you feel free and empowered. 
Spiritual Interpretation (Upright)
The upcoming happy occasion, the Four of Wands Tarot card prompts, can make you feel overwhelmed. The fact that everyone in your family is so warm and accepting is heart-warming for you. You may have refused to believe in social and religious institutions, but now is the time to discover the importance of such institutions in holding together the family members. Your experiences are offering the chance to view things from a different perspective now and you should not let go of this opportunity.
General interpretation and meaning of the Reversed Four of Wands
While the upright Four of Wands Tarot card signifies that a happy family reunion is about to take place, the reversed Four of Wands Tarot card represents the exact opposite. There may have been a lot of planning going on about an occasion, but all hopes will be tarnished with the cancellation of the event. This can make you feel like your idea regarding social institutions is justified because the community is essentially divided on several grounds that are sometimes unfathomable.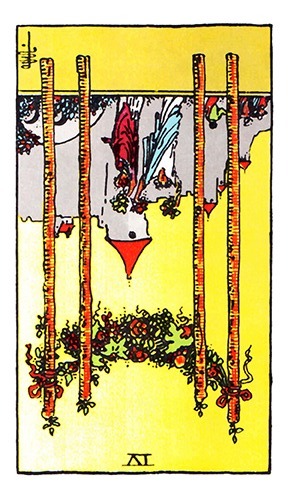 Discomfort pervades the atmosphere and you can feel alienated from the rest of the society more than you have ever felt. Doubts are now creeping in and a lot of dilemmas could be clouding your mind at the moment. However, you ought to retain your faith because that will help you see through the darkness. 
Love & Relationships Interpretation (Reversed)
The reversed Four of Wands Tarot card suggests that there is a sense of disintegration in the atmosphere. It may seem like the family that had longed to meet and have some meaningful conversations is gradually falling apart. But this feeling is a delusion that arises out of the necessity to meet each other. It is the cancellation of an upcoming event that has left everyone wondering what has happened to a family that was always elated about being integrated.
You have been missing the warmth and the affection that your family offers and the expectation of being renewed with the same amount of affection comes to a halt as the celebration is called off. Although this may have nothing to do with you, you can feel lonely and unwanted because there is already a lot of doubt that you have been trying to battle. While the upright Four of Wands represents collective efforts, the reversed Four of Wands Tarot card implies that you will feel like everything and everyone is divided.
Money & Career Interpretation (Reversed)
As opposed to the upright Four of Wands, the reversed Four of Wands Tarot card suggests that you may not have a thriving career at this point. This is essential because the environment does not seem to be supportive enough of your pursuits. There is already a lot of chaos in the air and when the only hope of refreshment is also lost, you can feel disheartened. You thought that your family was a better alternative to material wealth, but that belief seems to have been affected. The loss of hope from your own family can be detrimental to your growth as you will find it difficult to lay your trust in anybody. You could be compelled to make new friends, but acting out of impulse is never the right decision to make. You should take your time if you are looking to establish a meaningful bond. Moreover, the reverse Four of Wands also implies that you can have a hard time managing monetary affairs. Saving according to your targets can get difficult because you have some other priorities. But even though your financial situation may be affected, you will be content about prioritizing exactly what should be your priority.
Health Interpretation (Reversed)
The reversed Four of Wands Tarot card suggests that an already existing ailment could worsen. You may not have recovered from your illness yet, and you will be confronted with another major health problem. But none of these are incurable diseases. It could take a few days for you to cure, possibly a few days at the hospital; but everything will turn out to be fine if you can manage to deal with the mental stress that accompanies your physical health problems.
Spiritual Interpretation (Reversed)
The Four of Wands Tarot card may have had some serious declarations to make, but what strikes you most is the idea that the family is being ripped apart by alien forces. But making assumptions regarding something as dear to you as your family can affect you in unprecedented ways. The cancellation of an event is not the end of the world. Try shifting your focus towards something that requires your attention. There are better things to think about, your work-life your instance. Your willingness to work hard with your team to achieve the desired targets should be prioritized at the moment, and the only way to seek this amidst all the distractions is by turning towards spirituality.
Conclusion
The Four of Wands Tarot card can bring about a lot of confusion in your life. On the one hand, the upright Four of Wands could serve as an announcement for an occasion that will bring the entire family together and shatter all your misconceptions regarding relationships. On the other hand, however, the reversed Four of Wands could disappoint you with some ideas that can be difficult for you to deal with. What you need to remember amidst all the chaos is that you must pay attention to your health, because the most precious possession is good health.