General Interpretation and Meaning of The Hanged Man - Upright & Reversed
by astrology valley Sep 27 2021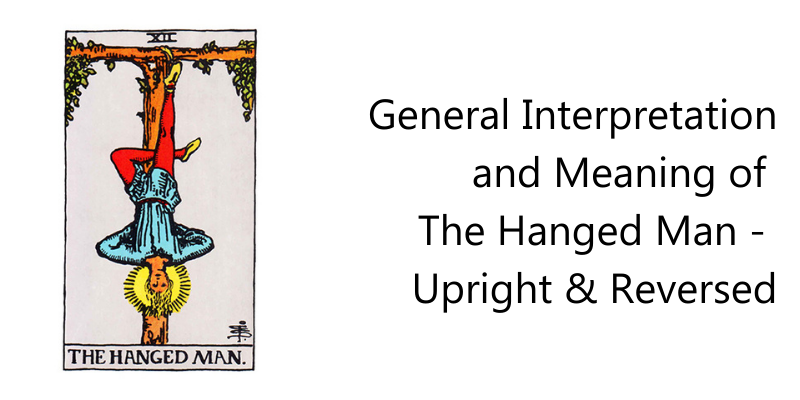 The Hanged Man is the card where you will see a man hanging upside down and having a view of this world from an altogether different perspective. His expressions are calm and at peace which shows that he is in this position by his own choice.  
You can even observe a halo around his head which represents a situation filled with knowledge and attainment of solace. The Hanged Man is well aware, enlightened, and experienced. His outlook of the world is different from that of normal living beings. He is hanging on a tree by his right leg where his left leg is set free. He is wearing red pants and a blue vest presenting human behavior in this world. This tarot card represents the ultimate surrender of humans towards the various situations in life.
The general interpretation of The Hanged Man (Upright) 
In a general context, The Hanged Man card indicates that you are stuck in a situation that is not that pleasing for you. You are not liking to stay in the arrangements in which you are right now. But the better part here is that you have got the facility to move out of this situation. You are viable enough to take a stand for yourself even against the odds. All you have to do is to focus on your strengths and push your limits until the occurrence of a situation that has got better things for you.  You have to understand one basic thing that is your life and you have to take a stand for it.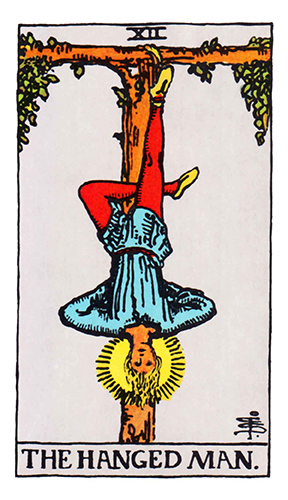 Love and Relationships (Upright)
If you are single, the appearance of The Hanged Man states that it is high time to set yourself free from the traps of any experience which is not bringing happiness to you. Moreover, if it is someone from your present who is forcing you to judge your self-worth, he/she doesn't deserve to stay in your life. Moreover, if you are someone who is already in a relationship then the appearance of The Hanged Man signifies that you might be in a relationship that is not making you happy. 
It also shows that either you or your partner wants to take a step back from the monotony of the relationship and assess the whole scenario. This card even breaks the misconceptions of finding a perfect partner. This card breaks the glass shield of any situation like this which might happen in the future. The working of this card's appearance somehow depends on how you are taking your relationship at present. If you are someone who is thinking that you are quite happy with the person with whom you are sharing life then the approach of the card is positive to you and if you are not living a happy life with your partner then the approach of the card is in that manner to you. 
Money and Career (Upright) 
On financial grounds, it is time to focus on every aspect of life. You might be in a situation of anxiety or panic where things are not working fine for you but it is not so. It is just that you have been stressing over an excessive amount of money a lot, which is dismantling you to appreciate what is already present in your life. Count your blessings and good will happen to you on its own. Talking about the Career, the appearance of The Hanged Man is a kind of blockage in your career. You might be in a state of confusion when it comes to the decisions which you took for your career. It is the time to focus on what is right for you and then pave your way accordingly.  
Health (Upright)
Well, on the health grounds if you have been going through various health issues, the appearance of the Hanged Man suggests putting interest on things or treatments which are worth paying attention to. It doesn't mean to skip what treatments you have been going through as of now. It is all about adding a new dimension to it so that you can become healthy. Moreover, it is suggested to you that stressing about things wouldn't lead you anywhere. So let the treatments and medications sink in. And be mindful about your journey towards the healthy version of yourself. 
Spirituality (Upright)
Speaking about the appearance of the Hanged Man in the Upright position is the proof of beliefs and faith you have for so long will do laurels for you for sure. The appearance of this card signifies you to live your life mindfully and focus on the positives of your life. It is the sign to remove negativities out of your life and focus on your spiritual journey. In this spiritual journey, you might have come across things that didn't feel good. It is time to follow your heart & pay interest in new ways. 
The General Interpretation of The Hanged Man (Reversed) 
The Reversed Hanged Man is the representation of someone who is not that great in decision-making and turns impulsive in the easiest situation. Even a minor instance is enough to distract you from your motive. The appearance of the card signifies that you might be switching from one bad situation to the other. It is high time to analyze where you are lacking and what are the things that you should not do for a better future. This Major Arcana trump is the sign that you are not considering your problems and simply ignoring them.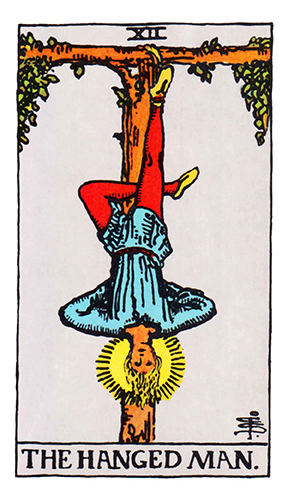 The time has come where these issues have reached their threshold. You are living in constant fear of what situations your actions might lead to. You have to analyze situations now and take the steps accordingly so that these issues might not become one that ends up in a severe situation. If you are genuinely not aware of what should be done next then give your monotonous life a pause and start focusing on your blessing, ways would be clear to you. 
Love & Relationship (Reversed)
When you are someone who is in a relationship, this tarot card of The Hanged Man reversed shows that you are in a relationship with someone toxic for you. You and your partner both are under the fear of starting over. And that is why you are hanging on to each other. It is suggested for you to walk towards the positive grounds and choose your mental peace over anything and everything. 
And if you are single then, the appearance of this Reversed Hanged Man might be the reason why things are not working out for you. There are chances that you might have been meeting people but things are just not working out. It is suggested for you take a leap from all of this and stop forcing yourself for anything serious as of now. Right things would happen at the right time with you. 
Money and Career (Reversed)
Coming on to the financial grounds, you might struggle in this field. The appearance of The Hanged Man reversed is the existence of issues related to your finances. You might come across issues where you can struggle. It is suggested for you focus on the areas where your money is flowing, this will help you to grow and give you a better insight into your financial living. 
Moreover, if we talk about career after the appearance of the hanged Man reversed, you might come across issues that may lead to cancellation or delay of projects. You might end up getting into an argument with someone at your work and that has the probability of leading to worse situations for you. Hence, it is suggested for you stay away from any extreme conditions such as these. You should strategize your work life and that would result in better results professionally. The appearance of this card might lead to situations where you lose your cool related to your work and that is going to contribute nothing to your professional life. 
Health (Reversed)
If you are someone who has been facing health-related issues, the Hanged Man in the reversed position signifies that it is high time to think out of the box and resolve health-related issues. You will have to understand it for a fact that every time we face a problem in our healthy living. It is not just because of your physical body but also because of mental and emotional living. Hence stressing overall living should be the matter of primary concern for you. You must put stress on issues like anxiety, phobias because that could result in insomnia and other issues too. 
Spirituality (Reversed)
In a spiritual context, The Hanged Man reversed shows that you are losing your ways of spirituality. You might have been coming across issues that have been hindering your path towards spiritual awakening. You have been coming across these issues for a long time now. It is high time to rewind the wheels and revisit things that have been becoming issues in your spiritual journey.