The twentieth card of the suit of Major Arcana shows the illustration of Archangel Gabriel, the messenger of God. It is blowing a trumpet from which a white-colored flag bearing the imprint of the red cross is seen flowing. Below him, many men, women, and children- all naked and greyish, are seen rising from their graves, probably to answer the calling of the trumpet. Their hands are stretched to be judged and scrutinized. It indicates their awakening or resurrection, only to accept their adjudication. The massive mountain peaked tides in the backdrop show the inevitability of facing arbitration. The unsurmountable waves show that obstacles and Judgements are unavoidable. No one can ever escape from the Judgement of God or the Universe.
This card can be seen as a card of awakening, or self-evaluation. It shows that the dead souls are rising from the grave to be judged, and be accepted either in heaven or in the dungeons of hell. They are ready to accept their fate and are waiting for their final verdict. The outstretched hands raised towards heaven show that they are seeking forgiveness for their deeds.
This card seems like an echo of the card of Death, as both the cards indicate a transformation, renewal, or resurrection.
Both remind us that all things in life come to an end, and in the course of life there is always hope for new beginnings. Perhaps this card is also about those new beginnings of your life.
General interpretation and meaning of the Upright Judgement
Traditionally, the Judgement card reflected the eagerness to evaluate one's actions in this life. If you pick this card in an upright manner that means you are ready to seek forgiveness for your deeds if proven wrong. You are ready to evaluate your actions to check if you are pious enough to go to heaven. You are ready to answer the call of the archangel, he is here to remind you that even in the end there is the hope of renewal. It is calling you to adopt new changes.
It is your divine call of upgrading yourself with new perspectives. It asks you to get rid of your old self and experience a spiritual awakening.
This awakening will help you to realize what went wrong in your actions, in your life. It indicates that you or someone close to you is likely to get scrutinized by insensitive humans. It also asks you to keep your harsh Judgments to yourself, which the world can do with a little kindness.
It also indicates your calm and composed nature acquired throughout life. You have your impulses intact and intentions resolved for evaluating the righteous or vain talents of yourself. It is your chance to grab your conscience and consciousness. You have pulled this card, which means you are ready to accept your flaws and make amends for your misdeeds.
Love & Relationships (Upright)
If you have pulled this card, it is sure that you already know what your priorities are. You have declared that you want to concentrate on your needs, for which you are ready to go to any extent. In addition to that, this upright card also predicts that you are likely to be reunited with someone from whom you were separated for years.
For your current relationship, it asks for a deep inspection of how your emotions are doing. It reflects the needs that your love life requires. You have probably been ignoring to pay heed to the issue of your relationship. But now, they are evident and screaming for attention. It suggests few necessary adjustments that your relationship might need to adopt. As your past deeds are coming back, there are plenty of occasions of misunderstanding. To keep your love life balanced and composed, you need to keep your communication game strong. If you want to see a future for yourself, resolve and relearn from your past mistakes.
Money & Career Interpretation (Upright)
You are going through a phase of self-awareness and awakening. You are experiencing a calling of a new purpose. A new opportunity is screaming for your attention in your career path. You cannot ignore the calling. This card also suggests the adjustments that you need to make to survive at your workplace. Of course, work is stressful, but if you adopt a few adjustments and changes, then it can serve you a sense of peace and make you feel revitalized. The Judgement card hints at the need of being more vigilant of your actions and asks you to take notice of how your actions are affecting your fellow workers.
It asks you to take some time out for self-evaluation to understand what improvements you need to bring to your attitude and behavior. In money-related matters, you need to evaluate your expenses and financial habits. There is a need of making changes in your habit of impulsive buying. It also signals the opportunity for investments or other forms of money-making.
​Health Interpretation (Upright)
In health-related matters, the upright Judgement signifies the period of recovery and healing from some serious or prolonged illness. It suggests that you have learned the lesson. Now, it is time to make amendments and take care of yourself to completely heal your lacking. It also hints at evaluating the needs of your body to function properly.
​Spiritual Interpretation (Upright)
This card is all about spiritual awakening. The blow of the trumpet suggests the spiritual calling, and the eagerness of the souls to receive this calling is quite evident. You are now ready to embrace the spiritual possibilities. Your conscience is awakened, and your path is enlightened as you have learned all the lessons preached by Karma. It is time for your revival or renewal.
General interpretation and meaning of the Reversed Judgement
When picked in a reversed manner, the card suggests a series of self-doubts and insecurities that are engulfing you. It signals that this lack of faith in yourself is causing indecisiveness and deflecting you away from your goal. It is the biggest obstacle in your way of moving ahead. It also suggests excessively harsh self-Judgements. These further damages self-dignity. You are getting affected by malicious gossips in your name by random people, but it must not be your concern. You need to focus on better changes in life, for which you have to learn the lessons preached by your karmic actions.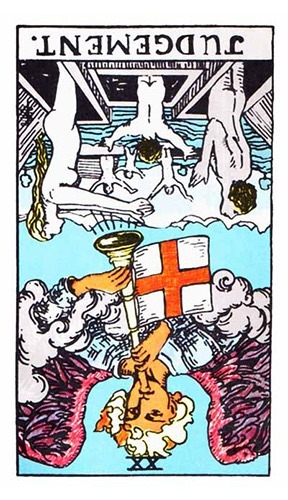 Your inability to take responsibility for your actions and refraining from learning from your past deeds is keeping you away from the right path. The Judgement card asks you to focus on your shortcomings and rectify them.
Also, your goal should be self-evaluation, you need to cure your failings instead of judging others for their decisions in life. This card also hints at resolving a legal matter through unfair means.
Love & Relationships Interpretation (Reversed)
For love and relationship, a reversed Judgement calls out your indecisiveness. It suggests that you are ignoring or avoiding some life-altering changes. Perhaps it is your self-doubt that is restricting you to decide whether to keep or break up your relationship. It also suggests that you might encounter some malicious or disgraceful rumors about your partner. But before calling them out or jumping to conclusions, you should let them speak their side. You must not judge others for their ill doings as that will not help you in any way. Your self-doubts have made you incompetent to decide your good. You are unable to learn from your past actions.
For singles, this card points out that you are allowing your timid nature to be an obstacle in your path. Your fear of embarrassment will set you off from many good prospects.
Money & Career Interpretation (Reversed)
This card suggests a life-altering point in your life, it is the time of making a few adjustments that can help you to break away from limitations and restrictions that you have created for yourself. It suggests good opportunities are coming your way, but your lack of self-reliance and belief is forcing you to miss on those opportunities. In money matters, you are overly cautious. This again makes it impossible for you to enjoy the moment. You must not lose all your money, but you must spend a certain amount on your enjoyment.
Health Interpretation (Reversed)
The reversed card suggests that if you want to recover from the wounds or pains of the illness, then you have to move forward and forget all the negativity that you are holding up against someone who might be responsible for your situation.
Holding grudges of past mishaps is restricting you from recovering, and the negativity is not allowing any good thing to happen to you.
Spiritual Interpretation (Reversed)
The reversed Judgement card reflects your inability to learn from your karmic actions. You are holding up yourself without acknowledging the past. Your spiritual call is asking you to take some time out to absorb and reflect on all that has happened in your life before stepping any further.