Drawing the 'Justice' Card while being a believer of 'Karma' is a moment of reinforcing the belief. In your life, there have been times when you have felt wronged and cheated. Isn't it true? When you introspect your actions, do you observe the trail that has led you to the place you are now? Do you feel that life has taught you some things and you ought to learn several more from them?
The Justice Card, or the eleventh card of Major Arcana, is the card that can help you to resolve these self-critiquing queries and veer your wrongs into right. It concentrates on your actions, good or bad deeds, and delivers you your karmic rewards. The incredible thing about this card is that it predicts or warns in a just and fair way for everyone.
The card illustrates a red-cloaked maiden holding a sword in an upright position in her right hand. It is a symbol of her logical mindset and firm decisions. Her sharp and composed stature shows her composure over the situation at hand. A long purple veil is loosely hung behind her projects her supremacy and compassion. The double-edged sword reminds us that every action of ours will affect us in a way or the other. She holds a weighing scale on her left hand to measure the good and bad feats of her pupils. The contrast between the sword and the scales suggests her evenhandedness. She wears a tiara embellished with a square representing her clear and orderly thoughts. When peered properly, we notice a white shoe beneath her gown; it conveys the spiritual notion that she is the deliverer of the outcomes of one's deeds.
The Justice card is the symbol of faith, fairness, and impartiality. It never fails to instruct you to take the right step. It guides one towards the path of goodness and righteousness.
General Interpretation and Meaning of the Upright Justice Card
When the Justice Card is pulled upright, it delivers karmic Justice to the querent. It is a chance to re-inspect one's actions. The consequences function through cause and effect. It indicates and reminds you that your actions have some consequences, and one has to bear them on their own. It helps you to confront the crisis at hand and influences you to spill the truth. The path of truth and integrity could be harsh at first, but it is the only fair way to lead life. The Justice Card is also a reminder that sometimes the repercussions of your actions will be beyond your control. But since you have pulled the card, it is the second chance that life is offering you. It is your time to mend the troubles. Justice is offering you this opportunity because everyone deserves a fair chance in her eyes. She is the symbol of a balanced life and controls the misleading.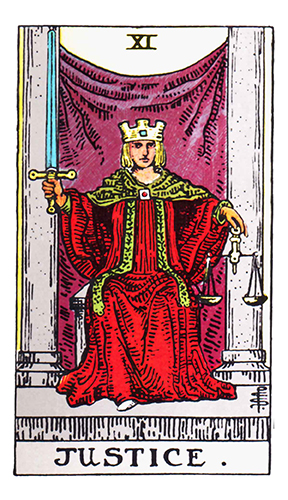 Love & Relationships (Upright)
If you are in a relationship, then Justice ideates that the imbalance between you and your partner is about to get resolved. You are going to be treated with love and kindness by your lover. It depends on your partner whether the Justice card is a blessing for you or not. Your behavior partnered with the attitude of your partner is the driving force of your bond. When both the partners are truthful and honest and respect one another, their relationship experiences an equilibrium. It also indicates a prospect of marriage.
For singles, it is an indication that finally, your search is over. The loving partner you have been looking for is about to enter your life. They will treat you with respect and adore you for who you are. It also hints that the partner could be someone from the legal field. The weighing scale is the sign of a Libra. A Libra is likely going to fall in love with you.
Furthermore, if your partner has been cheating on you or vice-versa, then this card can also be a fair warning to sort the complexities before it is too late.
Money & Career Interpretation (Upright)
It is undeniable that career, profession, and money are an indispensable part of our lives. We cannot live without them. But it is also equally important that you take out time for yourself and give rest to your brain and the body. The Justice Card is both a reminder and a warning in this case as well. It reminds us to lead a balanced life between career and family. Your personal and professional lives both need you. Make it a point to look after both your employees and family members. Showing care to those you care about is self-fulfillment in a way.
On the other hand, it is time to leap of faith in your business. If you are brave enough to gamble for a trade, then the chances of succeeding increase three folds. Therefore, it's a boon for them.
Health Interpretation (Upright)
Along with attaining a balanced work and personal life, you need harmonious sync between your body and the mind to function efficiently. And the Justice card is just in time to remind you that. It says that your actions have some consequences, this is true for your health too. You ignore your well-being to work more efficiently, but the outcomes may or may not be fruitful. If you want to work with your full potential, then you must take proper care to sustain a healthy body and sound mind. The imbalance here can disturb the complete process.
​Spiritual Interpretation (Upright)
The Justice card is here to deliver karmic lessons to you. It is not here to punish you for the deeds you did in the past. It is a guiding force that helps you to identify the things you could have done. Since time has passed, you cannot undo them. But you can surely learn the right ways of facing those same circumstances. It is the universe's way of telling you that nothing is permanent in life. If you want to change something about yourself and your living, then this is the right time. Life will be good if the path is full of truths.
General Interpretation and Meaning of the Reversed Justice
When drawn in reverse order, the Justice card indicates the injustices inflicted on you in your life by the action of others. There might be incidents where you will be falsely accused of certain deeds. People might force you into things that your heart didn't approve of. It has made you apprehensive of yourself. You feel wronged. The situations and the outcomes are beyond your limits of control. Nonetheless, the reversed Justice is here, to urge that whatever the crisis be, you must not lose the equilibrium of mind. You cannot escape your karma, so there is no point in running or hoping for exemption. Try to form a positive outlook and learn from the situation. If you are the one who has wronged someone or has been unjust, then it is an indication to mend your ill doings. Also, if you are up to some legal issues, it's a hint that the results might not be in your favor.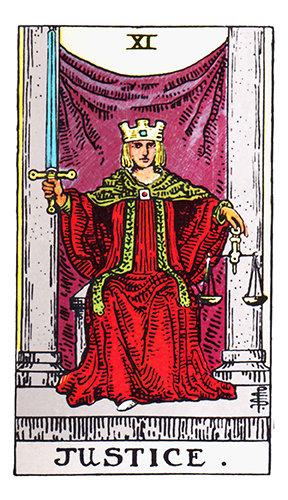 Love & Relationships Interpretation (Reversed)
It is okay to end some ties if things are not going well between two persons in a relationship. But if one chooses the path of cheating, then for them, this card indicates that they would be caught. Deceiving someone is an unjust way which the reverse Justice cannot stand. The card will give you a chance to mend things, but if you try to justify your wrongdoings, then no one would come to rescue you from the wrath of Justice that is about to unfold. If you are feeling misunderstood, your relationship is sailing through a rough patch, or you are pondering about ending ties, then a reversed Justice suggests that you need to analyze your actions too. Jumping to conclusions or rushing into the end will harm you. For singles with a reversed justice, it is a sign that you are not yet ready to fall in love.
Money & Career Interpretation (Reversed)
At the work front, the reversed Justice could be a sign that you are being held responsible for things you have not committed at work. Maybe your fellow workers are trying to frame you. You are treated wrongly, but you cannot confront them as arguing would not help you. Universe has its own way of making things right. For the time being, try to focus on your growth. If your attitude is not right for others, then it can sabotage your image. In business avoid big deals or any other money laundering as the reversed Justice is not a good sign for you.
Health Interpretation (Reversed)
You're stressing over the wrongdoings caused by others, but this is not helping you in any way. The reversed Justice is your warning call that to function productively, you need to secure a healthy lifestyle. Only then, you will be in the right mind space.
Spiritual Interpretation (Reversed)
The Justice reversed is here to offer an answer to your unanswered troubles. It helps you to evaluate your course of life and learn its hints on your own. This card reassures you of your beliefs and can silence the sobs of your soul in many ways.