General Interpretation and Meaning of the King of Pentacles - Upright & Reversed
by astrology valley Sep 27 2021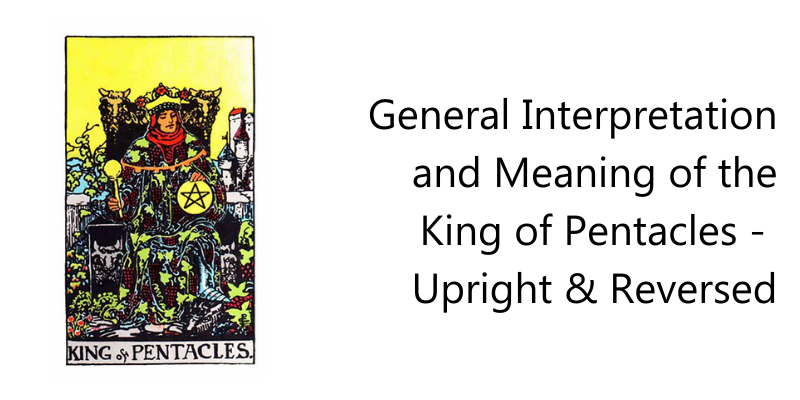 King of Pentacles, the ultimate card representing wealth, abundance, and success, is considered a part of the Minor Arcana in Tarot decks. However, the 'King' from the Suit of Coins is in the Latin decks of playing cards. The 'Suit of Coins' is similar to the 'Suit of Diamonds.' In Occult and Tarot Reading, this card holds a significant position in one's life and describes their material access.
The King of Pentacles is depicted as a King seated on a throne decorated with carvings shaped like a bull's head. It indicates its connection with Taurus. The King is wrapped in a robe made of vines and grapes suggesting its alliance with royalty, richness, and luxury. He holds a gigantic gold coin in his left hand, and on his right hand, he holds the scepter of power and strength, illustrating the materialistic wealth and social power he enjoys.
This King represents the ability of a person to win riches and gain wealth in life. The vines and grapes that adorn his robe falls onto the ground and grows around the robe. They creep up to his feet. This reflects his social stature and stability. One who holds this card is likely to proclaim a powerful position in their life and inherit monetary prosperity.
The backdrop shows the empire built on his hard work and persistence. The card also represents tradition. It is a signal that the individual is taking off to follow the path paved by their family. They are likely to join their family business and follow the religion assigned to them by their family. They prefer to follow the culture and perception built on their head by the family and the society. This card hints that along with being responsible for your materialistic profits, it also holds your family values. It suggests that your family would be proud of you in the future.
It indicates the accumulation of wealth to sustain oneself and support others. It also reflects that the individual is about to hold a fatherly stature. They will soon be responsible for providing guidance, advice, and care along with financial support and wisdom. Therefore, drawing a 'King of Pentacles' during a Tarot session is liable to hold numerous valuable predictions about your upcoming life and decide your course of living.
General Interpretation and significance of the Upright King of Pentacles
The King of spectacle holds several positive depictions when drawn in an upright position. Being a signifier of materialistic riches and abundance, it predicts the possibilities of the querent's accretion of financial prosperity and economic stability. They are the provider of their family, and the people around them depend on their wealth, guidance, and wisdom to perceive their life. They are likely to work for self-growth and believe in increasing self-worth. Success to them is the superior way of living. They grow up to become ideals for others. Their determination and hard work are evident in their upright morals indicated by the upright stature of the King on the card.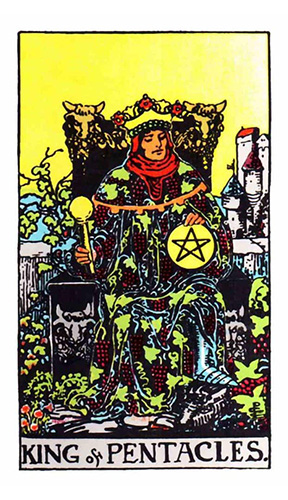 If you have pulled this card, then your life is about to get filled with joy and happiness.
You will be able to turn your ideas into reality, and your devotion to your work will bring you progress. The key to your success is your patience, self-control, and discipline. You will make gold in every field you choose if you work in a well-planned and methodological way.
Love & Relationships (Upright)
In matters of relationship, the King of Pentacles suggests a stable and secure phase in your life. You are going to enjoy a healthy relationship with your partner. The King of Pentacles for the men represents that they hold prolific male powers. It represents your trustworthy and tolerant side. You are supposed to be the balanced and wise provider in the relationship. You are undoubtedly a loving, caring, and doting companion and will become a phenomenal parent.
For singles, this card suggests that they are finally ready for a committed relationship. They are keen to fall and grow in love.
Money & Career Interpretation (Upright)
As we discussed earlier, this card is the greatest symbol for gaining wealth and prosperity. Therefore, it is a blessing for you. You are going to have a wonderful time at work. You will perform, progress, and procure higher altitudes of success. You will also receive priceless guidance from a senior at work. This is the time to achieve loads of things in terms of rewards. You will be highly motivated at work and not refrain from working overtime for a few more bucks.
Health Interpretation (Upright)
Your health, just like your career and wealth is at the pinnacle of doing great. You are experiencing elevated energy, enthusiasm, and stamina for all the positive things, that are likely to happen. The King of Pentacles is here to promise you good health and well-being. Any illness that might happen to you will recover on its own.
​Spiritual Interpretation (Upright)
It reflects that you have achieved all things in life, a healthy mind, and body, a great loving family, a successful career, and also became a renowned personality. Now it is time to show gratification. It is time to thank the universe for all its blessings. You have attained all the materialistic joy, pleasure, and glory. Now it's time to look out for ways to secure a stable mind.
General Interpretation and Meaning of the Reversed King of Pentacles
The King of Pentacles, popular for its significance in making an individual wealthy, can bestow a series of bad luck on an individual that has drawn it in reverse order. It becomes a symbol of losing. It hints that you will lose your home, job, career, and wealth if not cautious enough to control yourself. This flipped order also indicates that your royal splurge and expenditure will lead you to lose your assets. Your lack of discipline and determination to hold onto and manage your economy is on a slippery path. You prioritizing money and wealth over your personal life and health would cause severe adversities to you.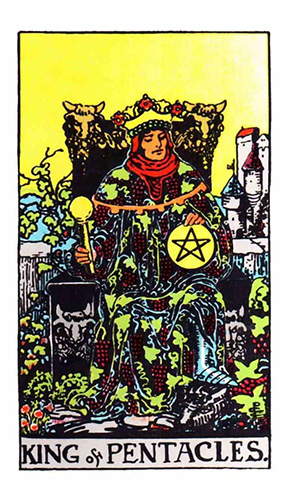 Moreover, your firm beliefs about your culture and tradition can sometimes project you as an orthodox. Your inability to mold yourself with time could be a drawback for your future.
Love & Relationships Interpretation (Reversed)
The reversed King of Pentacles indicates that you could not experience and enjoy the warmth of love fully. Your search for a stable and fulfilling bond is still on. You have not made any progress yet. It also suggests that the insecurities and complexities that you and your partner are experiencing are not helping your relationship. Your unsupportiveness will cause deep troubles in your love life.
If you are single, then it will remind you that you are going to fall in love with someone who possesses a greater social status or is richer than you. Their extravagance and niceness might blind you. So, beware and watch your steps.
Money & Career Interpretation (Reversed)
The reversed King of Pentacles indicates all things bad for your career. If you are a business person, then your company is going to see rough days. It is perhaps suggesting your failing career due to a lack of determination. You need to regain your leadership qualities and dedication to your profession. In dealing related to monetary transactions, you need to be extra careful. You are likely to face immense loss with a reversed King of Pentacles in hand. It also hints at some kind of robbery or theft at your home or office. You appear to be heartless and trying to work as much as you can. But you must know that only planning and working would not help you to survive in a real crisis.
You need to upskill your abilities and work creatively; if you want to land a great job to regain your financial stability.
Health Interpretation (Reversed)
Your overindulgence in work is resulting in neglecting health. Your mismanaged health cycle is going to cause you trouble in many ways. It hints at incomplete medical prescriptions. It can bring you serious health troubles, which would not be as easy as it seems. Do not neglect your health and delay your chance at being cured.
Your lack of enthusiasm for fitness will make you ill. Your illness will make you unproductive, and that will become the cause of your frustration and anxiety.
Spiritual Interpretation (Reversed)
The reversed King of Pentacles indicates that you, in your strive to attain all sorts of materialistic pleasures have lost touch with your soul. You have drifted far away from the divine way of peace and tranquility. Your rush and impatience show your urgency to elope. Therefore, the presence of this card will teach you the importance of valuing spirituality. As spiritual richness is the ultimate worldly riches one can imagine. It preaches that wealth will help them to gain luxury, but one looks at them would be enough to understand your inhibitions.