General Interpretation and Meaning of the Knight of Wands - Upright & Reversed
by astrology valley Sep 08 2021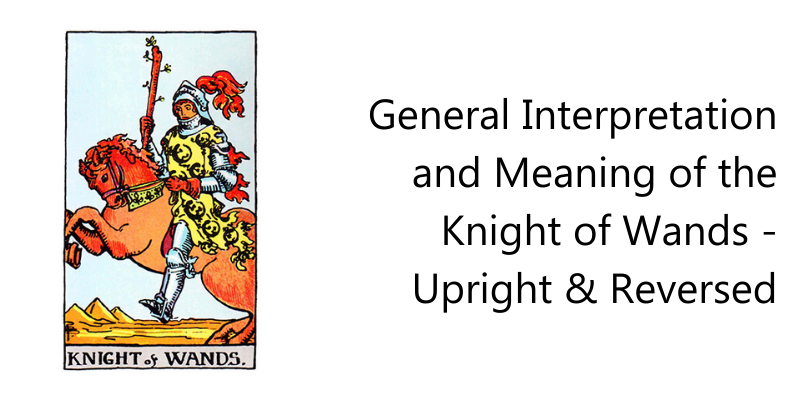 Tarot Cards help us by giving an indication of what to expect from the future. It not only helps in predicting the unknown future but also states a lot about a person's past life as well as the present situation. It guides an individual thus by giving a direction that can eventually lead to a path of success. Tarot cards have been in use for a long time. Each card has its own specific meaning which Signifies something extremely significant.
The Knight of Wands is a powerful tarot card that shows a Knight sitting on his horse and is fully armored. He is wearing a yellow robe which is intricately designed with salamanders and also has a helmet covering his head. At the back, we can see raging red fumes flowing behind him. On his right hand, he is fiercely holding a sprouting wand. This represents the sheer enthusiasm and dedication he possesses in order to achieve success for his mission. While the Knight is extremely high-spirited his horse complements the energy thus by raising up on its hind legs, which is an indication he is ready to take the charge. The background of the card is represented by hot and deserted barren land while mountains can be seen from a great distance.
General interpretation and meaning of the Upright Knight of Wands
The Knight of Wands is a true indication of positive changes in life. It resembles that you might have been struggling through something, but have taken charge of your problems and are trying to resolve those problems. It shows that things are going better than you might have expected. An adventure that you might have been skeptical about is turning out to be bliss and you have been steadily gaining the success which you aimed for. You are at a stage in life where you are oozing with enthusiasm, excitement, self-confidence and must be feeling extremely courageous. The card indicates that you are in the right situation and you shouldn't worry about the alternative and take action to proceed further with your ideas. The Minor Arcana is the indication that you are completing the things which you have initially started with.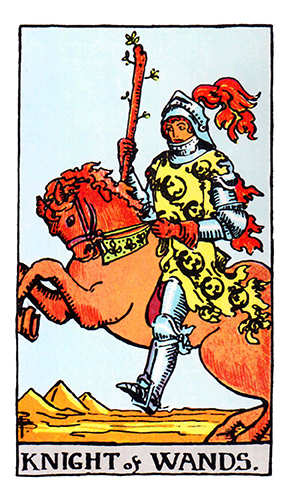 However, at the same time, this card also warns you not to take hasty and rash decisions out of desperation. You should have a proper perspective before taking action. The free-spirited man taking his own charge and enthusiastically moving towards the road of joy and success is extremely charismatic, adventurous, brave, and exciting. He is best known for his heroic and rebellious nature and doesn't oblige himself to anything which can restrict his freedom.
Love & Relationships (Upright)
When the Tarot card Knight of Wands comes in your love reading it is an indication that your partner is someone who is charismatic, courageous, free-spirited, rebellious and all the characteristics that have been stated earlier. This symbolizes that you have been proactively taking steps towards your relationship in order to have a successful love life. However, the Minor Arcana card also suggests that you and your partner should try to spend more quality personal time with each other which can deepen the bond further. Plan a romantic vacation where the two of you can enjoy the comfort of each other alone and have a peaceful lovely time. In case, if you are single the card indicates that very soon you are going to meet someone who is going to have the characteristics embodied above. You are feeling confident about yourself now.
Money & Career Interpretation (Upright)
In a tarot reading, the Knight of Wands indicates that you are going to change jobs or switch your career. It can indicate that you might be having huge plans and soon going to launch your own business
The Minor Arcana indicates the high-spirited individual who is willing to take up a challenge. Knight of Wands is a great card if you have been planning to start your own franchise. Before venturing into the new adventure just be sure that you have done your research and have the complete logistics of the plan you have been working on. On the other hand, if you decide to stay in your old job the card indicates the frustration and dejection you have been feeling. The sense of incompleteness has been making you impatient. It can be a good time to take up a job which enables you to travel more often so that you aren't always caught up within the four walls of your office.
Health Interpretation (Upright)
If the Knight of Wands comes in your health reading, it is a very good indication that your health is doing great. You are feeling positive and the optimism has greatly influenced your enthusiasm. The card also warns you to take things a little slowly as in haste you might end up getting hurt or injured or can even encounter an accident.
Spiritual Interpretation (Upright)
When it comes to spiritual interpretation, the card symbolizes that you have recently discovered a new spiritual path that has brought about calm and peace in your life. The path has brought about a sense of enthusiasm and you feel confident about yourself.
General interpretation and meaning of the Reversed Knight of Wands
The reversed Knight of Wands symbolizes a situation where things aren't going the way you might have expected. You are feeling dejected owing to the failures, delays, and setbacks you might have faced in the recent past. You might be lacking the enthusiasm to push yourself forward. You lack ambition and are in a situation of distress. An alternative interpretation can suggest that you are overconfident about yourself or highly competitive. You can be arrogant and therefore it is a warning that you need to take things slowly and plan out very well before executing them. This can be because you might end up losing the game that you have enrolled yourself into as it might not be a perfect time.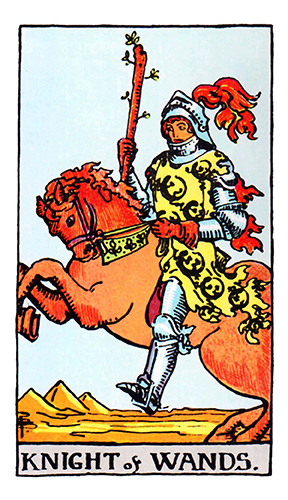 Love & Relationships Interpretation (Reversed)
The Knight of Wands in reverse for a love and relationship interpretation indicates that you are with a person who possesses similar characteristics as mentioned above. However, the Minor Arcana card symbolizes a partner from whom you need to be aware. He can be a womanizer or can be cheating on you. This can also be an indication of an unhappy relationship that might be abusive in nature. Your partner can be very aggressive towards you or someone who is jealous and has trust issues with you. If you are in a serious relationship you need to be more mature and make decisions more rationally and cautiously. The card also suggests that there might be a lack of communication and enthusiasm between you and your partner. If you are single, this card is a warning sign that the person in your mind can be abusive, manipulative, and be violent towards you in the future. If you are in a platonic love situation the card suggests the person is not serious about you.
Money & Career Interpretation (Reversed)
If the Knight of Wands in reverse comes in your career reading, it is not a good omen. It is an indication that you are not focused on your career. You need to be more serious and put things into perspective. It is the time you start working towards your goal and passions. The card also suggests you might be in a situation where you feel stuck and the job you are doing isn't the right one for you. The card can be an indication that you might have plunged into a new business adventure that didn't take off the way you anticipated. The setbacks may have made you apprehensive and disheartened. However, this simply means that the timings aren't so good. It may not be the right time to jump into new adventures or start up your business which you have been planning.
Health Interpretation (Reversed)
When it comes to the reading of health the reversed Knight of Wands is not certainly a good sign. This shows that you have been burning out all your energy which has been significantly affecting your health. The demotivation makes you weak and more vulnerable to pain and diseases. You might have been overdoing things or might have hastily jumped into a new rigorous health regime.
Spiritual Interpretation (Reversed)
The spiritual context of reversed Knight of Wands suggests that it is time for you to take a break from the old spiritual ways you have been practicing. It might be an indication for you to embrace a new soul-reaching journey that might be able to bring you inner peace. It suggests taking up a new religion or practice which can make you feel better.