General Interpretation and Meaning of the Nine of Cups - Upright & Reversed
by astrology valley Sep 07 2021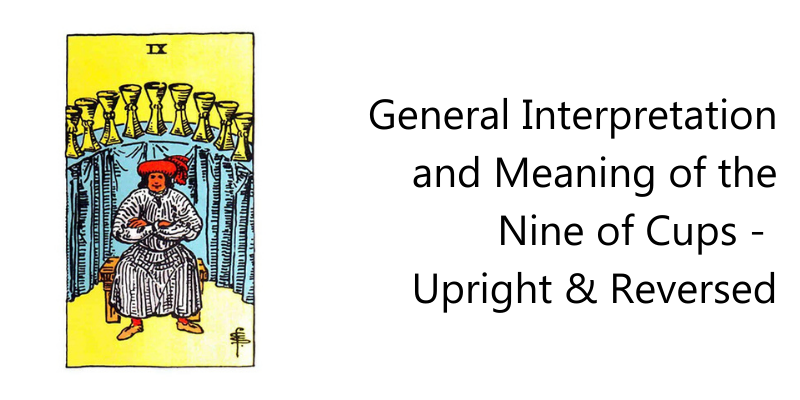 A person is sitting on a wooden platform in the Nine of Cups. He's relaxed but not at ease. Of course, you wouldn't like to spend all day sitting on that wooden seat!.
Both his arms are in a folded structure, and he has a contented and satisfied expression on his face. He is groomed smartly and exudes a genuine sense of fulfillment. Red is the color of his headgear, which represents his busy mind.
Around him is a blue-draped circular structure comprising of nine golden pot-like cups set in an archway. After you've fulfilled your innermost aspirations, the cups symbolize mental satisfaction. After fulfilling his ultimate ambition, the man displays that sign of success.
General interpretation and meaning of the Upright Nine of Cups
Spiritual satisfaction, joy, and pleasure are all themes in the Nine of Cups. Once this card occurs in a Tarot reading, it indicates that you are happy throughout your life, including connections, employment, leisure, wellness, etc. You're reveling in the wealth of life and relishing in the depth and delight of your feelings.
The Nine of Cups is commonly referred to as the desired card because of this. It's a symbol that the stars have cooperated and you've gotten all you wanted. You're in the happiest place on the planet! If you've made a request and are anxiously awaiting for it to come true, the card is a good sign that it would be fulfilled soon.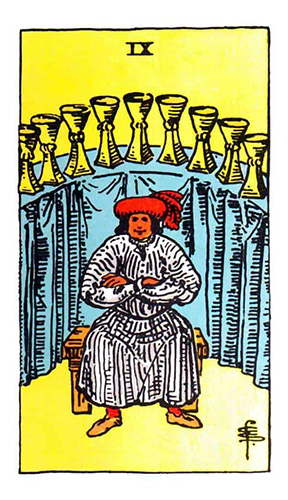 The Nine of Cups is a card that encourages you to spend, delight, and appreciate the finer things in life. Consuming fine cuisine and drink, admiring the crafts, snuggling up, resting in a beautiful hotel, or witnessing scenery are all examples of this. Relax at the moment and grant yourself the freedom to enjoy yourself without feeling guilty about the potential adverse impact.
Try to count your blessings and show appreciation for something you've done if you encounter the Nine of Cups in a consultation. Take note that the Nine of Cups is seated on a wooden platform that is only comfy for a short time. Recognize that pleasure are also fleeting, as it's all constantly changing. It's why it's critical to admire and respect what you're having now, as it may be taken away from you in the future.
Generally, the upright Tarot card Nine of Cups is an influential card that means that your aspirations will be realized. If you've recently faced adversity, sadness, or anguish, this card indicates that the rough days are over and that a period of pleasure, love, and satisfaction is on the way. You would be capable of doing everything you devote your time to if this Minor Arcana card appears in your deck layout, as it signifies victory, prosperity, and accomplishment. It also means placement, praise, and possible stardom, so your sacrifices will not go ignored. The upright Nine of Cups also signifies a profound sense of self-worth and self-assurance.
Love & Relationships (Upright)
Once the Nine of Cups occurs in a romance tarot reading, be grateful for something you've. Drums are intended to stand true here, and thankfulness is the best way of looking forward to tomorrow. There's a lot to be pleased about, and if you're solo, you'll find true love at celebrations and other pleasant events. Entertain yourself; right now is not the moment to calculate or strategize regarding your objectives, but rather have a lot of fun. Some will be drawn to you if you are cheerful. Once you're in a partnership, you'll notice that your romantic life is brighter and sweeter. It might be a fabulous time to grow connected to your mate.
Money & Career Interpretation (Upright)
The Nine of Cups, when it pertains to your profession, indicate that you'll be able to gain reputation and distinction in your area. Whatever work you begin now may be simple to complete, and the competence with which you finish them can bring you a lot of acclaims. It is an apt moment to ask for a raise in your wage or advancement if you want to develop in your profession. People are more inclined to respond positively to such pleas now than during the earlier days. Make the most of this opportunity. Overconfidence should not be a beneficial move, now's not the time to be modest or timid. You've put in a lot of effort to get this honor.
Health Interpretation (Upright)
The upright Nine of Cups is a favorable sign in a health Tarot reading, so if you've been having health complications, you might notice some progress or sensing more confidence regarding your health whenever it comes to reading. If your body is healthy, this card suggests that it will continue to be so. It is a fantastic time to indulge yourself and have some private time when this card occurs. Nevertheless, it can also serve as a warning to prevent overindulging because it might adversely affect your health.
Spiritual Interpretation (Upright)
The upright Nine of Cups in a spiritual or religious context implies that you'll be joyful and content on many dimensions. Also, it means that you will radiate great passion and emotion to everyone around you.
General interpretation and meaning of the Reversed Nine of Cups
Even though you seem to have anything you've wanted, you may still wonder as if something is lacking. Have you prioritized financial profit over personal enlightenment or positive attachments? For example, you may have the most luxurious house or automobile on the street, but you are dissatisfied since you never see your pals and relatives.
It is the core of the inverted Nine of Cups, and it encourages you to evaluate what you've been hoping for and match it with your greatest happiness when it appears in a Tarot reading. You may well have lost sight of what matters to you, preferring to focus on your vanity and pursuing what would please others.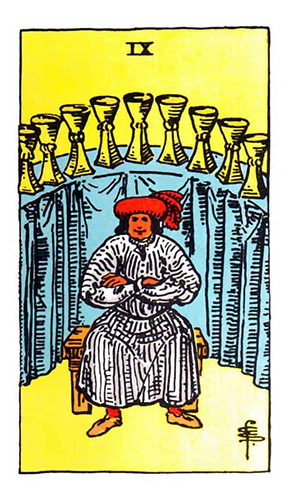 When the Nine of Cups is in a flipped posture, it can suggest a lack of consciousness or poor self-esteem. In an inverted position, this card can also represent issues such as body dysmorphia or addictions due to lack of self-esteem and sadness. It can also indicate vanity or ego, as well as a level of mental development.
The inverted Nine of Cups indicates that perhaps you should seek inside yourself for pleasure rather than turning beyond yourself for joy. For various individuals, contentment cause confusion. So, rather than thinking about what will keep other individuals happy, focus on what will bring you happiness. Change your notion of accomplishment if the external world isn't providing you joy and pleasure.
Love & Relationships (Reversed)
With the flipped Nine of Cups tarot love interpretation, you might discover that your partnership checks all the criteria and appears to be perfect on papers, yet something is always lacking. Perhaps you and him/her aren't quite as close as you'd like; maybe you don't have a strong enough bond. There's no need to be concerned because this may be resolved with a sincere and personal discussion. But on the other side, you might be so focused on entering into a relationship that you missed the fact that you necessarily need to grow as well. People can get caught up in a relationship to divert their attention away from the prime task that they need to perform to thrive.
Money & Career Interpretation (Reversed)
When the Nine of Cups is in a flipped posture, it can mean that your ideal employment or enterprise has turned into a disaster. Perhaps you've established your private company or gotten the advancement you desired, only to discover that it isn't as satisfying as you expected or that the burden is keeping you unhappy. It could also mean you're having trouble finding a job you enjoy and are thinking like such a loser. It could indicate that you are trying as hard but are not accomplishing your goals and that your efforts aren't acknowledged. The Nine of Cups inverted in a financial setting can be a terrible sign, as enticing acquisitions or money prospects may end up being failures.
Health Interpretation (Reversed)
Inverted Nine of Cups might indicate eating issues such as body dysmorphia, gluttony or extreme feasting, and cravings in a medical setting. When experiencing any of these symptoms, you might require expert healthcare services or therapy to help you determine and address the underlying reasons for your problems. It's not a good idea to acquire this health card because it can signal sorrow. Also, it could just mean that you'll be gloomy or that you will allow pessimism to allow you to feel terrible, so remember to stay positive if you are experiencing health problems.
Spiritual Interpretation (Reversed)
In a spiritual or religious context, the inverted Nine of Cups can suggest that you are searching for ways from outside to fill an emptiness that you are experiencing spiritually. Absolute fulfillment originates from the inside, so you should return your attention to your spiritual aspect and focus on finding your religious journey.