General Interpretation and Meaning of the Queen of Cups - Upright & Reversed
by astrology valley Sep 07 2021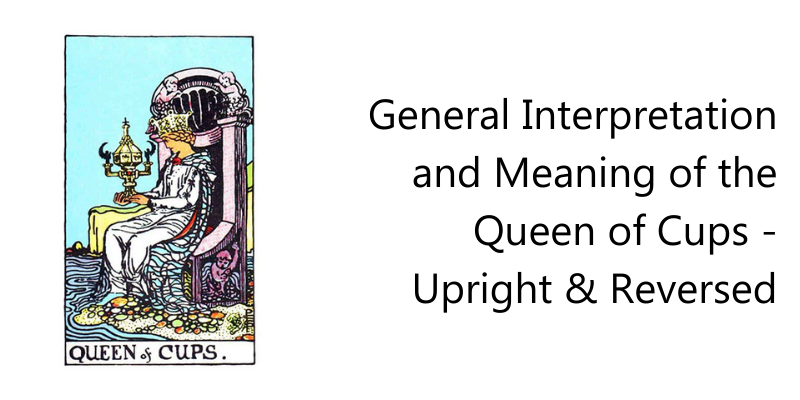 Queen of Cups is a tarot card that helps in the interpretation of what the future holds for one. The card represents a mature woman or a female who is affectionate towards every relationship she holds. She is kind, supportive, full of sentiments, and listens to everyone. Overall this card represents a lot of positivity and affection towards everyone she has in life. As a feminine power, she represents affection and love towards every relation which includes her partner, parents, children, and friends.
She has empathy in her heart and soul and is marked for the same. The way a woman handles every relationship of her life, in the same way, the queen of cards is the representative of love and affection paving the way to you.
GENERAL MEANING AND INTERPRETATION OF UPRIGHT QUEEN OF CUPS
As mentioned earlier, the Queen of Cups represents the womanly presence in your life and that could be in any form of relation. When it comes to the Upright Queen of Cups Tarot Card, this card shows the presence of a woman in life who is very much humble, kind, and supportive. The minor arcana card represents one to be mindful and has sympathy along with compassion towards others. This tarot card also reflects that you might show the whole world that you don't care about things but deep down things matter to you too. This card also represents that you might be a daydreamer and you may have a tendency to imagine things.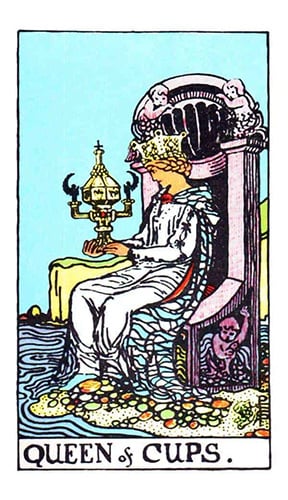 As a person, if we talk about this upright Queen of Cups Tarot Card. This tarot represents the feminine i.e. the most divine power. She is the representative of love, empathy, affection, and passion in your life. She is full of sentiments, a good listener, and a great soul. She has a keen interest in art, creativity and is a firm believer in intuitions.
LOVE & RELATIONSHIPS(UPRIGHT) :
While having the love tarot reading, I must tell you that the queen of cups is a very positive card and it for sure will bring good news in your life. If you are Single and have been in search of true romance for a while. Then I must tell you, the time has come when a romantic relationship is paving its way to you. You are about to come across a feminine power whose presence and affection would change your life. The kind of love, warmth, and affection she would add to your life would set everything right. Moreover, just like a positive cup, she would come with an aura that would change you inside out.
And, if you are someone who is married or in a relationship, the upright queen of cups represents that you would have the feeling of security and completeness from now. Also, the time has come when you need to open yourself all to your partner and see what laurels would happen in your life.
MONEY & CAREER(UPRIGHT) :
As we know, the Queen of Cups is a tarot that is all about good omen. Coming to the financial part, the Queen of Cups has brought with itself a good omen that with this card you will get security about your finances in your life. Whereas, it is suggested to take care of your investments, as it is not recommended to invest money anywhere. It might not produce the same result as you have expected while investing in it.
Moreover, coming on to the Career part of your life, you might have been in a position of underemployment but as the lady luck would walk in your life. She would help you and guide you to get what you deserve in life.
HEALTH(UPRIGHT)
When it comes to the Queen of Cups in the context of Health, this might show that you need someone's help to get well from illness or an injury. This card is the sign to be gentle with yourself. You might have been going through a time when because of your prolonged illness or your injury, you might be in the state where you are losing your patience and that is the reason you are going harsh on yourself. Well, on the contrary, this card could be a sign of your good health indicating that you would be able to provide health to others.
SPIRITUALITY (UPRIGHT )
Coming to the spiritual context of the upright Queen of cups, this card is a great omen for those who are on their spiritual journey. As this card represents strong intuitions and psychic activities thus the growth in your spiritual experiences is expected to happen great. Moreover, the intuitions are also there: the queen (woman) or the feminine power walking into your life will help you in your spiritual growth.
GENERAL MEANING AND INTERPRETATIONS OF REVERSED QUEEN OF CUPS :
The Reversed Queen of Cups Tarot card represents emotional immaturity. This card also indicates that you might be overly sensitive, insecure, and confused about your decisions in your life. The Minor Arcana card often warns you not to go beyond your way to convince someone or impress someone even after going through vengeful activities. You should always focus on one part and that is to put all your efforts into what you do and rise above your level without giving any negative vibes to yourself.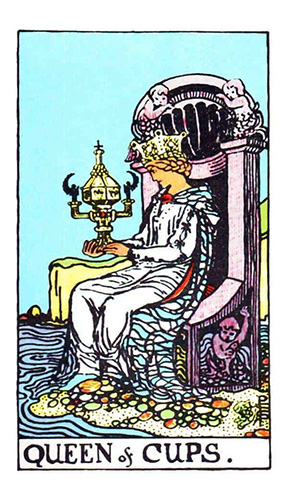 When the Reversed Queen of Cups is represented as a person, she is a woman full of emotional immaturity, she is weak and clueless about her ambitions in life. At times she is also intuited as a woman who is mature but at the same time, she is clingy and needy. She is someone who is always craving attention from everyone. As a mother, she can be manipulative and unmanaged towards her responsibilities. Coming on to her relationship with her friends and family she can be immature and disloyal towards her relationships.
LOVE & RELATIONSHIP (REVERSED)
Well, if you are single, let me tell you the reversed queen of cups is not a great omen as it suggests that it is not a great time to come into a romantic relationship with anyone. This card also suggests that you are not going through the great emotional phase in your life at present and people may walk into your life to get benefit out of your vulnerability. Take time and deal with your vulnerability first and then go in search of a partner.
Whereas if you are already in a relationship, the reversed Queen of Cups is a warning for you to keep your relationship away from any insecurities and lack of trust that could land you up in any issue because of which you guys lose affection for each other. This card is also a sign that you might be needy and clingy in the relationship right now and this behavior of yours could bring doubts in your partner's mind and you might end up pushing him/her. Also, if you have been trying hard to convince your partner to bring back the sparkle in your relationship it's high time to understand that you should prioritize yourself over anyone and everyone. Don't allow anyone to get benefits out of your vulnerabilities.
MONEY & CAREER(REVERSED)
When speaking about the reversed queen of the cups tarot card, the financial challenges shows this tarot card is not a good omen for you. You should be aware of the fact that you are exactly investing your money. You should be sure about your funds and proper research is suggested before you are investing in any organization.
Moreover, coming to career, this card of reversed Queen of cup suggests that you might be feeling a blockage in your career. It gives you a feeling that you are devoting all of yourself to something but at the same time you are not being appreciated for it. It is high time for you to move ahead and give efforts to maintain balance in your personal and professional life and if not you might start feeling burnout because of overdoing your professional responsibilities.
HEALTH (REVERSED)
In the Health context, the card is showing reversed effects. It indicates that you are staying in a toxic environment full of anxiety, insecurities, and self-doubts. Moreover, there are chances that your mental state would start overtaking your physical body and thus your body will start reflecting issues as such. .
SPIRITUALITY(REVERSED)
If you are someone who is on his spiritual journey, the reversed Queen of cups tarot card reflects the blockage in your psychic activities. There is the indication of this card that it will slow down the whole process of your spiritual journey. In this situation, if you try to rush the whole process it will only lead you to anxiety and frustration. This is the reason why it is recommended to not force things now. On the other hand, this card can also reflect that you are ignoring your spiritual gifts while being indulged in superficial things. It also looks like you are lacking in direction and guidance for your spiritual journey. Seek for an emotionally mature female to guide you in your journey.