General Interpretation and Meaning of The Star - Upright & Reversed
by astrology valley Oct 13 2021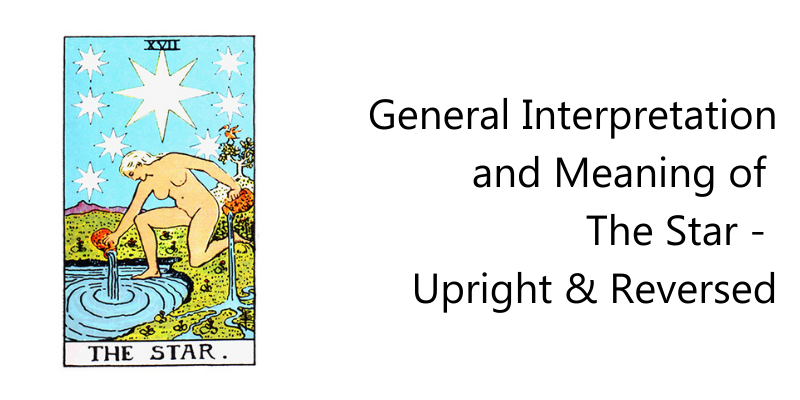 As the name suggests, the Star Tarot card represents light which is symbolic of hope. On the other hand, however, the reversed Star Tarot card is associated with hopelessness and gloom in one's life. Not only that, the star Tarot card can have multiple implications, and to unearth the multiplicity of meanings suggested by the Star Tarot card, stay tuned and keep reading ahead!
General interpretation and meaning of the upright Star card
The upright Star Tarot card signifies hope and optimism that ultimately leads one to a destination. This destination is one where the person will be satisfied with what one has achieved. Things around you are in your favor and you will feel like everything is dancing to your tunes. The card this comes to hints at your elevated sense of individuality and hopefulness. After a long-drawn struggle, you have finally succeeded in restoring your hope and it is this hope that will help you sail through all storms. The struggle and the chaos have now subsided and it is time to work on the impact that your past has had on you. This enthusiasm to fight back and explore what the future has in store for you will help you go very far in life. Hold on to the belief that you can battle every enemy and you are bound to succeed. This might also be the best time to manifest your creativity because you thrive when you get to express yourself. The upright Star Tarot card hints at the fact that everything is going to be fine with you.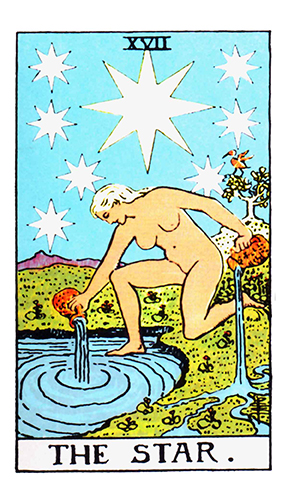 Love & Relationships (Upright)
Hey there! If you have chosen the Star Tarot card, get ready to explore the beautiful world of romance. It is time for you to commit to a new relationship, one that will fill your life with hope and a sense of gratitude towards the divine for having given your life and an amazing partner. However, if you have not met this person already, go meet new people because that is when you will find your perfect match. But if you are in a relationship already, you might find yourself resolving the issues in your love life and developing a new idea of what it means to be in love and how a love relationship operates on love and trust.
Money & Career Interpretation (Upright)
The Star Tarot card symbolizes the possibility of some out-of-the-box ideas and changes in your career. This might as well be a once-in-a-lifetime opportunity that you will never want to miss out on. Everyone at work is appreciative of your efforts and you are enjoying the fruits of your hard work now. Alternatively, this could also mean that you may find peace in a role that involves more creativity and helps you to apply your ideas. Opting for a new job that allows your creativity to flourish will enable you to earn better and in turn solve the financial issues that you have faced in the past.
Health Interpretation (Upright)
The Star Tarot card means that both your physical and mental health are helping you attain your goals. You may have experienced some physical discomfort or mental health issues owing to your financial problems in the past, but the card indicates that you are going to regain control over your health and that will help you grab all the opportunities at your disposal. This is the time meant for your growth and everything and everyone is ever ready to help you climb the ladder quite early in life. You have earned it. So, do not shy away from enjoying the benefits.
Spiritual Interpretation (Upright)
You may have had a hard time dealing with some very unfavorable circumstances in the past, but now that you have gained a spiritual insight into the heart of things, you can work on factors that need immediate attention to rise higher in life. Spirituality has helped you come out of the dark shadow of the past and now is the time when you will shine brighter than ever. Make the best of this favorable time, because not everyone is as lucky as you at this moment. To call it purely luck, however, would be an injustice because it is undebatable that you have made several sacrifices to reach where you stand now.
General interpretation and meaning of the Reversed Star card
The upright Star Tarot card may have some hope to offer, but the reversed Star Tarot card represents the exact opposite. It symbolizes diminishing hope. It also suggests that you are bored of the kind of work you are engaged in, let alone enjoying yourself thoroughly in the project.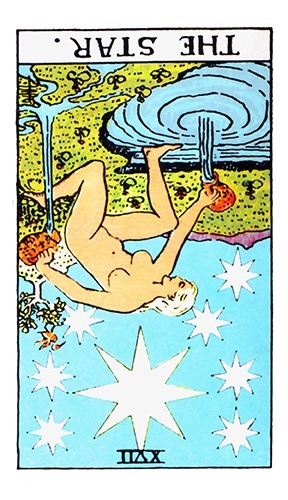 Your inability to dedicate yourself completely to achieving the goals you had set for yourself because you no longer believe in yourself or anybody around you at this point. You may have been through a lot in the past, but you ought to accept the reality, it is that the one experience that describes life is none but struggle. No matter how hopeless you might feel, you cannot let things slip off your hand. You must take charge of your destiny and change things for good. Merely indulging in pessimistic contemplation is not going to yield anything fruitful. Try what you can to restore your trust in your abilities because you will not be able to achieve anything unless you have faith in your capacity. The world is cruel, and so are your circumstances. Your current job appeals little to your creativity and you do not wish to be confined in something that does not let you exercise your greatest possession. But hey! Not everyone understands the true meaning of life, and what you do is your luck. 
Love & Relationships Interpretation (Reversed)
For those who are involved in a romantic relationship, the Star Tarot card can be indicative that you no longer have any expectations from this relationship. There are a million ups and downs in such relationships, but the slightest lack of interest on the part of either of you will shatter all your hopes and desires revolving around this bond that you so valued. The fact that you have invested a lot of emotions in the other person can push you to mend things and if you remain determined, everything will soon get sorted. 
For singles, however, the reversed Star Tarot card implies that you do not have faith in a love relationship owing to some of your experiences in the past. You may not trust others, but remember that you must trust yourself if you want to sustain.  
Money & Career Interpretation (Reversed)
The reversed Star Tarot card signifies that you have failed to retain your interest in your current job because it does not appeal to the creative side of your personality. But have you been just as frustrated with your work in the past? And if not, what was it that made you choose this career in the first place? Once you have your answers, you will know what is interesting about this work. You may feel anxious when you look back, but hope is what enables us to survive in this world which is a mixture of good and evil.
Health Interpretation (Reversed)
The reversed Star card does not say much about your physical health because it is likely to remain as it is. But what can be particularly disturbing is your mental health. Your inability to grasp things well these days roots in the anxiety that you are undergoing. But there is nothing that should be bothering you. There is always a bright light at the end of the tunnel, and who knows, this gloomy phase could help you arrive at some crucial realizations!
Spiritual Interpretation (Reversed)
The reversed Star Tarot card indicates that there are a lot of pessimistic thoughts that are clouding your mind at this moment. The only way out of this situation is through spiritual accomplishments. Your alienation from the rest of the world is only going to create gaps between you and the important people in your life. If you do not take the steps necessary to combat this sense of alienation, it might become impossible to bridge these gaps. Do not forget that these people are the ones who have been by your side through thick and thin and approaching any of them can even solve half your problems!
Conclusion:
The Star Tarot card has both a good and a bad side to it. While the upright Star Tarot card seems almost like a lottery, one that announces good fortune and hopefulness, the reversed Star Tarot card is premonitory. But you should not let this negativity take over your dreams because achieving your dreams comes from fighting for them with all your heart and soul.