The playful cards help in the interpretation of the future, as in what the future has in store for us. Well, there is the whole pack of cards and each one has its meaning where some signify happiness, then some signify sorrow. One such is here called Ten of Cups.
As when you see this tarot card of Ten of Cups you will observe a couple standing outstretching their arms towards each other back enjoying the scenic beauty. You will also observe a child standing holding their hands and looking in the same direction as the couple. On one side of the card, you will observe a flowing river.
There are different interpretations about the cards; some say the upright card with itself marks prosperity and wellness while the reversed card has different interpretations which are reversed. Well, the explanations are different, So let's dive deep into this card and see what it has got for one.
The general meaning of Upright Ten of Cups:
Overall, the upright ten of cups is one of those cards which is a very good sign. This card to which we address as Ten of Cups reflects a level up in your happiness, spiritual growth and overall being.
This card very nicely indicates your well-being in your domestic life. It truly reflects that the one getting this card his/ her life would be an enjoyable one. Moreover, this card also reflects that every bliss is possible in domestic life to be it your spiritual growth or mental growth. This card is the interpretation of security in your life. This is the sign of satisfaction in all genres of life be it family, friends, health, wealth, etc.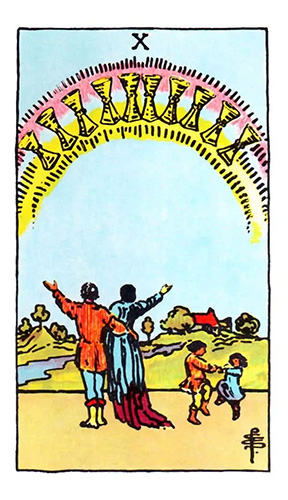 The person getting this card on the Tarot is considered to be secure from all ends of his life. This card reflects playfulness towards life. It is also said that ten of the cups tarot cards are the interpretation of family and friends gathering. Son, if you are someone who has been planning to visit home. Then, this is the sign to tell you that it is to gather your favorites around you. Moreover, this card also signifies one's gratefulness and fulfillment in life.
Love & Relationship(Upright) :
When it comes to the love interpretation of this tarot card, this card shows if you are single this card is ultimately the sign of a new long-term relationship paving its way to you. This would be the kind of relationship you have ever desired for. The relationship gives you a sense of strength and security. Moreover, if you are someone who is already married this card is the best omen you can get in your relationship. This tarot is an appearance of secured married life. You will be satisfied on all grounds of your married life. If you are in the middle of deciding family signs. Then, I must tell you this is a positive sign. Even if you are someone who is separated from his/her partner, the appearance of this card is a sign of reunion.
Money & Career(Upright):
From the perspective of your career, the tarot card of ten of cups indicates that it's been so long you have been giving efforts to take your career to the highest peak. Now is the high time to harvest the crops of your ripening efforts. The appearance of ten of cups tarot card interprets bright days ahead, you will be able to shift your attention towards your family life too. Moreover, talking about the finances, the ten of cups will bring with it the certainty of the best returns on your investments. It seems that the investments on which you have given up as they were not working for you for so long, this is the time where the returns can be expected. So, the better days are ahead.
Health(Upright):
The appearance of this card shows that you have been trying to achieve better on your health grounds for so long. But not to worry, this tarot card of ten of cups truly reflects better days on health grounds ahead. In case, if you may have been feeling sick for quite a long this card gives assurance for good health. Overall, this card is a great omen on health grounds too.
Spiritual(Upright):
If you have been interested in spiritual activities for quite a long time. The appearance of this card interprets that it is high time to gather all your energies and give your best on this ground. This card is a positive sign to achieve your spiritual goals while on the journey of being a better version of yours every day.
General Meaning and Interpretation of Reversed Ten of Cup :
When taking the reversed Ten of Cups in reference, one thing is for sure that this card is not a good omen. One starts losing contentment within himself/herself when such a card appears. The reversed ten of cups reflect the reversal of love, harmony and peace with issues like distrust and conflicts.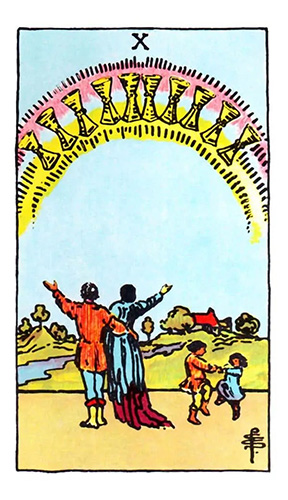 The appearance of ten of cups tarot card reflects the problem in your domestic relationship. You go through issues like losing trust in each other. Your relationships grow stuck at a place from where you feel it is impossible to move on. The card says that your domestic life would be full of blockages on every ground be it your understanding, commitments. Your partner won't stay committed with you and the causes of infertility may arise. Moreover, if you are someone who has been trying to step up in your relationship, this may not be the right time. If you have been planning to conceive for a long time and no results are appearing. Then, this card is the sign to seek medical help.
As your relationship is losing its spark. Hence, it is suggested to take hold of your relationship in your hand and give everything a pause for yourself. You have to set your mental, physical and spiritual growth before heading towards worldly peace. Hence, it is suggested to you that you keep things at pause so that the blockages happening because the appearance of reversed ten of cups tarot cards may not have a greater impact on you.
Love & Relationship(Reversed):
If you are someone who is already in a relationship. The appearance of this card interprets a harsh relationship with your partner. This card reflects that many such situations and issues are arising in future that may lead to results like separation and divorce. This card interprets that a partner in your relationship is not ready for commitments. He/She might have some issues which are the reason for his/her back off. They aren't ready for commitments, to conceive or whatever the situation of your relationship is. Also, this depends on the combination of your cards that are appearing with ten cups. There might be the chance that you may have been trying to conceive for a long time but because of some issues, you are unable to conceive. Then one thing is for sure, issues as this must not be avoided and should be considered primarily.
Moreover, if you are single. This card signifies the blockages in your energy. It is important to keep yourself at peace before anyone else. Also, you have to stop holding on to things that happened in the past. You will have to remove the negativities within you before finding positives all around.
Money & Career(Reversed):
The context of ten of cups on appearance related to the money grounds, this card signifies the instability and uncertainty. When it comes to investment, the appearance of a card interprets that your investments won't pay off as you expected. So, it would be a great idea to save money for your future usage. Whereas on the grounds of your career, your days are going to get hectic and you won't be able to put your attention towards your family. You might remain stressed because of losing connections with your work environment because of your packed schedule. So, be it your investments or your career, decide on giving it a second thought.
Health(Reversed):
The appearance of ten of cups tarot card reflects the loss of harmony in your body because of health issues. This card can also be a mark of some surgery. If you are trying to conceive for a long time, then this may not be the right time. Moreover, discovering issues during your pregnancy is also a mark that these problems should be addressed. Overall, it is interpreted that the reversal card of ten of cups is not a good omen when in the context of health.
Spiritual(Reversed):
Well, like all other grounds this card reflects the blockages in your spiritual journey. If you have been lately trying to get into this journey, you must give it a pause and together with your positivities and then once again try to get into this journey. If you are someone who is into this, you must not lose hope to attain your peace and decide to walk on the same path.