General Interpretation and Meaning of the Two of Pentacles - Upright & Reversed
by astrology valley Nov 02 2021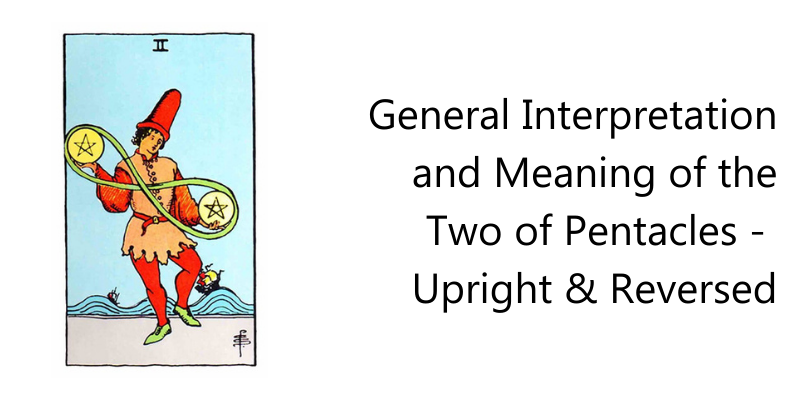 The Two of Pentacles is a card that symbolizes one's quest for balance in various aspects of life. The Two of Pentacles card depicts that one will encounter both happiness and sadness alike; be it concerning your business that involves both profit and loss or partnerships that require shared efforts; your search for stability is what this card indicates. Just like there is an inflow of wealth, you will simultaneously be pushed to spend it. You could find yourself making some significant decisions that involve your finances and just like the Two of Pentacles prompts, you will succeed in maintaining a balance here as well. 
General interpretation and meaning of the upright Two of Pentacles
The Two of Pentacles can be justifiably called the card of balance as it represents one's quest to find the perfect balance and emerge victorious in the struggle against opposites. The Two of Pentacles stands strong to rescue people from falling. If you happen to have chosen the Two of Pentacles card, you can rest assured that you will be able to adjust to any circumstance that you may be forced to accommodate yourself in.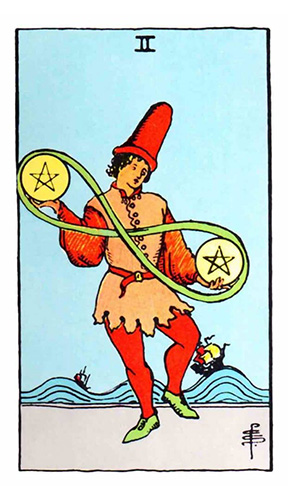 The Two of Pentacles may also mean that you are trying too hard to balance a lot of things at the same time. It is doubtful how wise a decision it is to make at this point in your career. Investing a lot of energy without a profound vision of the future can leave you disappointed after a long-drawn battle and all your efforts will fail to bear any fruits. Since the Two of Pentacles also represent prospects of partnership, you may find yourself at crossroads with the desire of your partner. This could be anyone- a family member, your lover, or someone who looks forward to establishing a business. 
So, you may need to decide what your priority is at this point. 
Love & Relationships (Upright)
The upright Two of Pentacles can symbolize that striking a balance in your love life can become increasingly difficult with both of you prioritizing different things over the relationship that has worked out so well so far. For others, this might mean that as a couple, you may have some significant decisions to make. For instance, buying a house or a car or health insurance- something that adds up to a good future together. Although the two of you may differ in your opinions, it is important that you try and understand each other's wishes and value each other's happiness over anything else.
For singles out there, the Two of the Pentacles imply that you may have to make a significant decision about your love life. Are you ready to take a leap of faith and give this new relationship a try? Try asking yourself this one simple question and you will be amazed to see how effectively it helps you overcome your dilemma. 
Money & Career (Upright)
The Two of Pentacles announce the arrival of new business prospects for you. Your previous job has become boring and working with those same workmates seems monotonous now. The Two of Pentacles call for a drastic change and you will feel the need to start up something from the scratch, but the risk involved in it is something you do not seem to get to terms with. A lot is yet to unfold over time, the almost unending cycle of profits and losses, for example. But this is how a business sustains and helps you have a better grasp over the workings of the business world. You are just beginning to think of starting afresh and having to make some significant financial decisions at this point can make you lose your calm and become overly anxious at times. What you should remember is that everything comes with a price! 
Health Interpretation (Upright)
If you have chosen the Two of Pentacles, you will again be met with the problem of maintaining a balance between your health and your priorities. Your health is your wealth and there is nothing that you should be compromising your health for.  
Spiritual Interpretation (Upright)
The Two Pentacles do not leave the spiritual page unturned. When viewed in light of your spiritual progress, the card may symbolize that being able to keep in touch with the spiritual world alongside other things will help you rise higher and higher.  
General interpretation and meaning of the Reversed Two of Pentacles
Contrary to the promptings of the upright Two of Pentacles, the reversed Two of Pentacles indicates the lack of balance. It represents the ideas that lie on the other side of the pole when compared to the upright Two of Pentacles. You may find that you will be taking some major steps in the days to come, but your efforts will not yield anything fruitful. Your decisions are going to be proven wrong and you will find it difficult to manage your finances. Your ability to organize things can be turned topsy-turvy and prioritizing your goals can be a tough job. The pressure may be forcing you to make instinctive decisions, but refrain from doing so at all costs.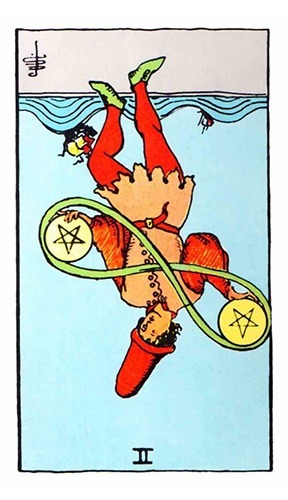 Love & Relationships Interpretation (Reversed)
The reversed Two of Pentacles can be an indication of how you have been trying hard to focus on your relationship and make things work, but it turns out that nothing is beneficial at this point because you hardly have the time and the mental space to indulge in a romantic relationship. This lack of contribution in the relationship on your part can give rise to some serious and crucial arguments between you and your lover. You may even end up calling off the association. For singles, this might pose difficulties in terms of choices. You may have dated some people in the past, but you might need to decide who you want should stay in your life. The reversed Two of Pentacles suggests that you can find it difficult to decide and commit to anything serious just now, but relationships like these require effort. If you are unwilling to offer that, you should refrain from getting involved in a romantic relationship. 
Money & Career Interpretation (Reversed)
The reversed Two of Pentacles indicate that you are trying to manage a lot of things at the same time. But putting more than what you can consume on your plate can affect your health. Trying to grab it all at once will make things slip off your hands and this is certainly not desirable when you are already planning to start afresh. If you think you are exhausted from everything that has been happening in your surroundings, you should consider taking a break and then resume because that will help you gain a new perspective. 
Losses may be inevitable, but what you should emphasize is how you can reduce the losses incurred by your new business. Once you get to the root of the problem, you will make this business thrive. What's done is done. So, move ahead and devise strategies to rise high every time. If that requires you to approach a professional, so be it! 
Health Interpretation (Reversed)
The reversed Two of Pentacles signifies that you may be trying to push yourself harder than you can probably bear. Exhausting yourself to a point that you cannot recover for a long time will only worsen the situation. Good health is extremely important if you are trying to fight a battle. A healthy body is a key to a happy mind, and how is a restless mind supposed to perform well? Work on your health, exercise a little and get back to your job as soon as possible. 
Spiritual Interpretation (Reversed)
The reversed Two of Pentacles, when viewed in the spiritual context, underlines how it will become difficult for you to thrive spiritually. Spirituality is often your harbor in times of crisis, but your anxiety seems to have claimed your mental health balance which in turn, has affected your spiritual progress.  
Sometimes, the wisest thing to do is take a break from the boundless struggle in your life to seek peace. This might be the mantra for success. 
Conclusion:
The Two of Pentacles card comes to depict unpredictability. While the upright Two of Pentacles hints at how one can successfully balance a certain amount of work, the reversed Two of Pentacles also reveal another side of the coin. The reversed Two of Pentacles may suggest that one is trying to manage more than one is capable of. This can have severe consequences not only when it comes to future endeavors, but will also be very demotivating for some people. The only thing one can rely upon is one's decisions, even though one will have a hard time making some crucial, life-changing decisions.