General Interpretation and Meaning of The World - Upright & Reversed
by astrology valley Oct 25 2021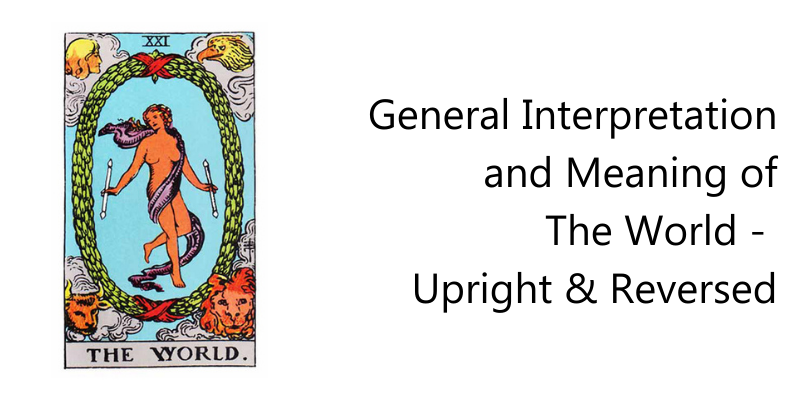 The World Tarot card reveals a whole lot of prospects and opportunities for you. Whether it concerns your success in your career or your personal life, your prospects of travel of the burden upon you, you can discover it all by a careful reading of the World Tarot Card. Be it the upright The World or the reversed World Tarot card, there are many things that you will unearth on learning about the interpretations of the two.
There is a lot more to this card than these simple ideas, and if you wish to discover what the factors affecting your life are and how they have been impacting you, dive right in to read a detailed analysis of your choice of the World Tarot card.
General interpretation and meaning of the upright World Tarot Card
If one were, to sum up, what the upright the World Tarot card means, one would simply say that the entire cosmos seems to be favoring your progress and honoring your wishes. All that you have wanted in life is now achievable. There are numerous opportunities at your hand and all you need to do is channelize your energy to make the most of these changes. In fact, in a general sense, the upright World Tarot card also reflects that you could travel and you will receive a warm welcome. The experiences you thought were utterly useless are now going to help you move ahead in life and you will realize how useful they have been in teaching you the most significant things. Moreover, the World Tarot card could also be symbolic of the conclusion of a giant project and the arrival of new projects. If you are planning to start a business or a family, the World Tarot card is here to give you a nod. Now that you have accomplished a lot in a very short period, you should probably take some time to enjoy these wonderful new experiences.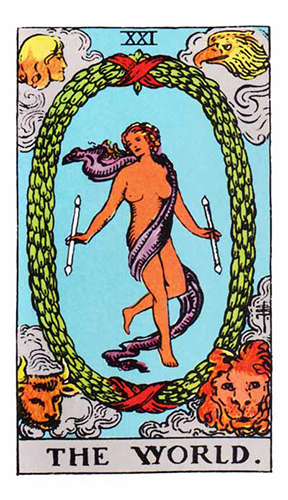 Love & Relationships (Upright)
The upright World Tarot card, when read in light of the perspective of love and relationships, can signify that you will be achieving the desired relationship goals. The relationship has developed into a strong bond and you cherish the security that your lover has to offer. It is this sense of comfort and security that you value most and this could motivate you to make a significant move like getting married or planning a family. There have been lots of ups and downs in your personal life and the understanding you have arrived at is commendable.
For singles, the World Tarot card indicates that you have finally arrived at a point where you feel at ease with yourself. Bygones are bygones and you look forward to exploring new Worlds. As far as your love life is concerned, the World Tarot card might suggest that you could come across a new person to who you will be very attracted. Meeting this person over travel sounds interesting, doesn't it?
Money & Career (Upright)
The upright World Tarot card prompts that you have a thriving career. Most of the problems are now dealt with, and this motivates you to go further. You are excited and will keep devising new strategies to make your plans work. But this is also the time when you should possibly be enjoying the essence of success and meet and thanks to all those people who have been super supportive in your journey so far. Career growth is your priority right now and you are not willing to compromise it for anything. This approach of yours is a brilliant one, for it will help you attain new heights in life.
Health Interpretation (Upright)
In the context of health, the upright World Tarot card is symbolic of the potential to overcome any obstacles caused by health issues. It indicates that if you had the misfortune of meeting with an accident or an illness, you will be recovering sooner than expected. Everything is on the right track, and your health is only following the pattern.
Spiritual Interpretation (Upright)
A spiritual reading of the upright World Tarot card reveals that you have had to face some grave misfortunes in the past and dealing with them has been extremely tough. But no matter how harsh the circumstances have been, you have emerged victorious after a long-drawn battle with the external World. With such experiences to your credit, you now have a new perspective and this is something you should be grateful for. If you think that parting with these experiences will help others in their journeys, you might as well plan to share them.
General interpretation and meaning of the Reversed World Card
On the one hand, the upright World Tarot has had some wonderful and satisfactory revelations to make, the reversed World Tarot card indicates circumstances that are a complete reversal of those ideas. The reversed World Tarot card implies that you have had to face a lot of problems in your journey, but they have not been dealt with in the ideal way. This is why they keep hindering your way over and over again and this could be extremely demotivating for someone who has worked hard. You might as well feel that all your dreams have been shattered, but you are perhaps wasting your enthusiasm on a worthless plan. The problem lies in the idea that you do not have the privilege of giving up on your plans. After all, plans are only worthwhile when you implement them well. The reversed World reflects on how your entire World has turned topsy-turvy and suggests that it is high time that you should start looking for alternatives.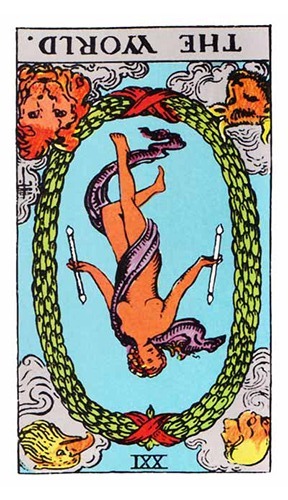 Love & Relationships Interpretation (Reversed)
The reversed World Tarot card indicates that your love life is no more on the same track. Your beliefs have been thwarted, something you definitely cannot come to terms with after having invested yourself emotionally into this relationship for so long. But have you tried to fathom what has been causing all the chaos in your love life? Perchance, it is the communication gap that has been creating all the problems. The way to solve your issues is to destroy them from the roots.
For singles, the reversed World Tarot card suggests that you have been having a hard time escaping the memories of your love life. To while away time thinking of the ones who have left you all alone is not the solution. So, try interacting with more and more people so that you can be back on track very soon.
Money & Career Interpretation (Reversed)
You may have made a lot of investments in your grand plan, but they do not seem to turn out to be effective. The fact that you have been working on it for so long has been claiming your ability to look at things with rationality. Being stuck to one plan that does not work out can be harmful to you. After all, failures are the pillars of success! You know what you have garnered in the entire process and what you must look forward to is the idea that you should be using these experiences to carve your way and achieve success.
Health Interpretation (Reversed)
A careful reading of the reversed World Tarot card unfolds that you may have been suffering from an illness or may have met with an accident in the recent past. Although you may be expecting the treatment to work, it had not been beneficial. If this is not due to any carelessness on your part, you must try seeking other forms of medication to accompany your current routine. This will ensure that the help remains with you and the useless is removed from your life.
Spiritual Interpretation (Reversed)
As far as the spiritual aspect is concerned, the reversed World Tarot card suggests that you are mentally exhausted after all the efforts you have put in, though all in vain. But hey! Why feel disheartened when you know that things have happened for a reason? You know what the process was meant to teach you and once you have realized that your experiences will help you with the new plans you are perhaps already thinking about, and when you have known that, there is not much to worry about. There is no alternative to hard work. All you need to work on is the plans that you have been trying to execute to no use.
Conclusion:
The World Tarot Card speaks a lot about the career aspects and how your love life looks like. The appearance of the upright World Tarot card should fill your heart with joy because it indicates the possibility of new opportunities and discoveries. But the reversed World Tarot card could mean that your World is going to be turned upside down. Your beliefs could be shattered but new plans will help you escape this feeling.