The Hermit Tarot Card Meaning - Astrology Valley
by Astrology Valley Feb 04 2023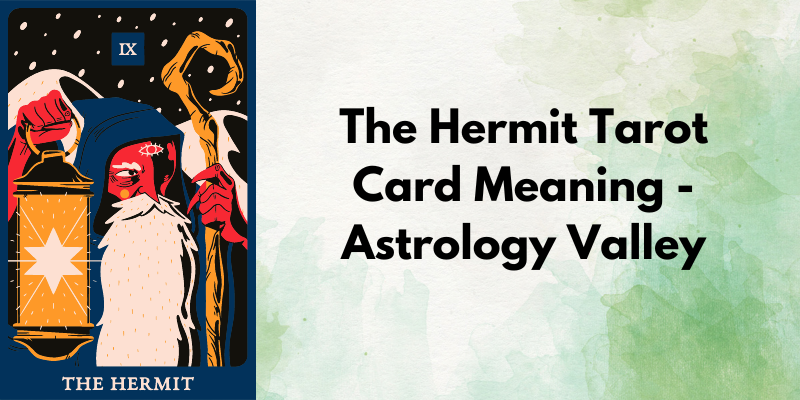 Interpretation and General Meaning (Upright)
The upright position of The Hermit Tarot card indicates a period of introspection, self-reflection, and spiritual awakening. You may need to be alone to gain a deeper understanding of yourself and your life. This card may also indicate a need for withdrawal and isolation for healing. The Hermit can suggest seeking guidance from counselors or therapists. This is a time to focus on your needs and be present.
Love and Relationships (Upright)
If single, the Hermit can symbolize coming out of a period of solitude and loneliness, and a readiness to start anew. It can also suggest celibacy or chastity. In a relationship, the Hermit can represent an older and wiser partner, but may also indicate a lack of focus on the relationship and a need to be more open.
Money and Career (Upright)
In a career context, the Hermit can indicate an excessive focus on materialistic pursuits and neglect of personal fulfillment. It may also indicate a search for a more fulfilling career. The card can suggest a more mature approach to finances and investments.
Health (Upright)
In terms of health, the Hermit warns against overworking and suggests taking breaks for self-care. Improving your health can be achieved through meditation, mindfulness, and connecting with your body.
Spirituality (Upright)
The Hermit card is associated with spiritual growth and enlightenment. This is a good time to engage in spiritual practices such as meditation, energy work, or psychic development. Focus on developing your spiritual side, listen to your inner guidance, and allow yourself to grow spiritually.
Interpretation and General Meaning (Reversed)
The reversed Hermit Tarot card suggests that you are withdrawing too much from the outside world or becoming too isolated. While solitude may have been beneficial or necessary at times, the Hermit card reversed tells you it is time to get back in touch with the world and those around you. While taking time for reflection and soul-searching can be beneficial, excessive isolation can lead to negative outcomes. It's time to end the past and move forward. This Major Arcana card in the reversed position may indicate anxiety or shyness in social situations. Don't be afraid to re-engage. The reversed Hermit can also mean avoiding self-reflection due to fear of what you'll discover. This can indicate being too attached to someone or something, or having a narrow perspective.
Reversed: Love and Relationships
The reversed Hermit Tarot in love is a strong indicator of loneliness. If you're in a relationship, it may mean feeling rejected or shut out by your partner. It could also indicate that you and your partner are too busy to spend time together, causing feelings of isolation. If one person is withdrawing from a relationship, while the other is trying to keep it, this can also be indicated by the reversed Hermit. For singles, the reversed Hermit can mean feeling forgotten or like you've missed your chance for love. If you've been single for a while, it's time to let go of your fears and be open to new possibilities. The reverse Hermit can also indicate a desire to get back together with a recent ex-partner.
Money and Career (Reversed)
In a career context, a reversed Hermit can indicate a readiness to make changes and establish connections. If you're finding it difficult to work alone, consider working with others in your field or on a team project. It's also a good time to seek the guidance of an experienced financial advisor for money and investment advice. Don't make hasty decisions about money without proper understanding.
Reversed Health
The reversed Hermit Tarot in a health context may indicate mental health problems such as paranoia or agoraphobia. This card serves as a warning that taking time to relax is crucial for your well-being.
Spirituality (Reversed)
In a spiritual context, a reversed Hermit indicates that you may be spending too much time alone. Engaging in activities and groups will help you become a better spiritual leader. Consider joining a meditation or tarot sharing class, reiki group, tarot reading group, or yoga class. While solitude is important, connecting with others is also necessary.